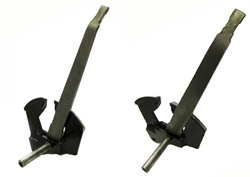 Oshkosh, WI (PRWEB) March 28, 2013
Triangle Manufacturing is uniquely positioned to add valuable services to ready-made or custom products because of their engineering expertise and their onsite tooling facility. As a small business, Triangle has the flexibility to design and produce a component from the ground up or to improve upon a semi-finished piece. Either way, they work with the OEM from start to finish. Because of this, Triangle's customer base can utilize them as either a full-service manufacturer or as a value-added supplier. An example of this flexibility is shifting levers that were produced off-site and brought to Triangle to increase the efficiency and improve the design by engineering and installing self-aligning ball and ring assemblies.
This shifting lever was designed to be used in a tractor for a global agricultural manufacturer. The shifting lever was produced by a third-party manufacturer and brought to Triangle for value-added features, in this case a self-aligning ball and ring. This self-aligning assembly is ideal for agricultural applications. A lack of complex moving parts decreases the chance of failure or repairs and dust; moisture or shocking loads will have little effect on the assembly.
Triangle Manufacturing's other value-added services include: full assembly options, packaging, bagging and product testing.
About Triangle Manufacturing
For almost a century, Oshkosh, Wisconsin's Triangle Manufacturing Company has used a foundation of experience, paired with technical know-how and advanced automation to be the leader in fully customizable metal fabrication, product innovation and invention. We have introduced and redesigned fresh products that are progressive in their respective industries. Whether you need lazy susan bearings and HVAC components, pillow block mountings and blower bearing brackets or rod ends and direct-drive motor mounts, you can rely on Triangle Manufacturing's Creative Engineering. For more information, samples or quotes, visit us at http://www.TriangleOshkosh.com.
Contact:
Kylie McGowan
Marketing Coordinator
http://www.TriangleOshkosh.com
info(at)triangleoshkosh(dot)com