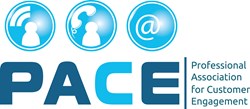 Sandy exemplifies the heart and soul of PACE
Atlanta, Georgia (PRWEB) March 28, 2013
Sandy Tafur, Manager of Client Success at PossibleNOW, the leading provider of customer experience and preference management solutions, is the 2013 recipient of the Fulcrum Award from the Professional Association for Customer Engagement (PACE). Ms. Tafur received the award during a luncheon at the organization's recent annual convention in Scottsdale, Arizona.
PACE, formerly the American Teleservices Association (ATA), is the only non-profit trade organization dedicated exclusively to the advancement of companies that utilize contact centers as an integral channel of operations. PACE enhances the ability of its members to provide outstanding customer engagement solutions to their customers and optimize revenue generation activities in global multi-channel contact center environments.
"The Fulcrum Award is the highest individual award that PACE gives for contributions to the industry, the Association and commitment to Community Service. PACE is honored to present this year's Fulcrum Award to Sandy Tafur," states PACE CEO, Phil Grudzinski. "Sandy exemplifies the heart and soul of PACE. It is through members like her that PACE has truly been able to set the industry standards as high as they are."
"It is an honor to be recognized by my peers for my service to the Southeastern chapter," says Sandy Tafur, former chapter president. "Presiding as chapter president for the past three years was a tremendous opportunity to contribute to PACE as well as my local community. During my tenure, our chapter and its board members produced 16 successful events and raised more than $20,000 for local charities."
For more information about PACE and the membership that the organization serves, visit http://www.paceassociation.com.
# # #
About PossibleNOW
PossibleNOW, headquartered near Atlanta, Georgia, is the trusted source for consumer preference management and compliance solutions. PossibleNOW leverages its expertise in information technology, database management, and consumer privacy and regulatory compliance to provide cloud-based applications and solutions. PossibleNOW's MyPreferences® is an enterprise preference management solution that effectively collects and manages the contact preferences of customers and prospects including servicing, privacy, marketing (opt-in and opt-out) across all marketing channels and makes the preference data actionable. The DNCSolution® suite of cloud-based services provides comprehensive tools that help direct marketers comply with federal and state Do Not Contact legislation (Do Not Call, Do Not Fax, Do Not E-mail, Do Not Mail). For more information, call (800) 585-4888 or (770) 255-1020, e-mail info(at)possiblenow(dot)com or visit http://www.possiblenow.com.
About PACE Association
PACE is the only non-profit trade organization dedicated exclusively to the advancement of companies that use a multi-channel approach to engaging their customers. These channels not only include primary contact centers, but digital channels like mobile, social media and the web. A core mission of PACE is dedicated to proactively balancing industry best practices with current regulatory standards around using these channels when contacting customers. Our membership is made up of Fortune 500 companies, contact centers and technology suppliers that enable companies to contact their customers based on their preferred method. For more information, visit http://www.paceassociation.com.