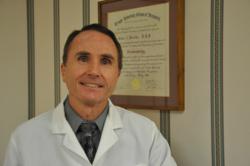 San Clemente, CA (PRWEB) March 27, 2013
Dr. Allen J. Schultz performs laser periodontal disease treatment with the new Laser Assisted New Attachment Procedure. LANAP is only available from one percent of dental professionals across the country. Dr. Schultz is certified in this FDA cleared protocol and can now offer it to his patients that suffer from the effects of gum disease.
It is estimated that more than 100 million adults in this country have gum disease.
Unfortunately, many of them are not likely to go in for treatment. Some may not realize they have the problem and others may be putting it off because they don't have time to take off of work for the long recovery that traditional treatment methods usually require. Traditional treatment also involves a scalpel being used. With the technologically advanced LANAP periodontal disease treatment procedure these worries are a thing of the past.
For most patients, the minimally invasive procedure causes little discomfort and they are able to get back to work or other duties the same day of the procedure. In addition, the body can heal much more quickly with this procedure than with traditional methods of treatment. The PerioLase MVP-7 laser is designed to remove bacteria and diseased tissue without harming healthy tissue, teeth or bone. Bleeding is minimized throughout the procedure and the gums are compacted against the roots of the teeth to help them reattach. In addition, the bone is stimulated to regenerate, which can help save teeth that have begun to loosen because of bone loss.
Although there are some instances where traditional periodontal disease treatment methods are necessary, the majority of patients are good candidates for the LANAP treatment. Patients who are looking for a more comfortable and less invasive procedure can now select the LANAP treatment. To learn more about gum disease, its symptoms, and treatments such as LANAP, visit http://www.sanclementeperiodontist.com.
Allen J. Schultz, DDS is a periodontist offering patients personalized dental care for Southern Orange County CA for over 25 years. Dr. Schultz received his specialty certificate in periodontics from Temple University in Philadelphia, PA. He is a member of many periodontal and dental organizations and has written original articles for publications. Dr. Schultz is part of one percent of dental professionals providing the most recent FDA cleared laser procedure for gum disease and periodontal treatment. To learn more about Allen J. Schultz, DDS and his dental services visit his website at http://www.sanclementeperiodontist.com.