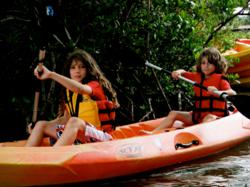 Sunny Isles Beach, Florida (PRWEB) March 28, 2013
Summer Camp information for the City of Sunny Isles Beach is now available. With plenty of options, including general day camps, specialty camps, and sports camps, parents and kids alike, will be sure to find the right fit to fill those summer days. Registration will be open at Pelican Community Park (18115 North Bay Road) for Sunny Isles Beach residents starting April 13th and for everyone starting April 27th.
Our general day camp offerings include Camp Tot Lot, a part-time program for toddlers, and Camp SIB, a full-time program for school-aged children. Camp Tot-Lot is the perfect opportunity to introduce your toddler to his/her first school experience, including learning arts & crafts, games, sports, music, and yoga, while also learning to socialize with other children. Camp SIB is offered for four different age groups. The children are engaged in age-appropriate activities and field trips. For instance, the SIB Freshman (5-8 year olds) go on two field trips a week such as Miami Shores Aquatic Center and Metro Zoo, whereas the oldest group, SIB Seniors (ages 13 – 15), travel off site four days out of five to such exciting venues as Xtreme Rock Wall and Ski Rixen at Quiet Waters Park. When not on a trip, the campers are at camp, doing various activities, including arts & crafts, outdoor sports, indoor games, and more! Whatever the age level of your children, rest assured; the fun offered at camp will keep them engaged in learning about their world. They will burn off plenty of energy every day in a safe environment; falling asleep each night with a smile on their face!
In addition to general day camps, the City will also be offering specialty and sports camps, such as Musical Theater, Dance, Fine Art, Basketball, Soccer, and much more!
Registration hours and days are limited, so register early as camps are popular and fill up quickly. Only a full registration will hold your child's spot. Complete details and listings for all the camps can be found in the Summer Camp Brochure which is available at Pelican Community Park or on-line at http://www.sibfl.net. For additional information or questions please contact the Cultural & Community Services Department at 305.792.1706.