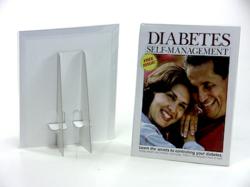 Shipping charges are lower and the volume can actually be much higher – it really gives you a nice return on the dollar
Norco, CA (PRWEB) March 29, 2013
Ever cognizant of customer needs and economic trends, Plastic Products Manufacturing (PPM) has decided to release a major push on their line of Economy Sign Holders, a cost efficient alternative for point-of-purchase displays and promotions.
These 8-1/2" x 11" vertical slanted Sign Holders have vinyl fronts for inserts and "chipboard" easel backs for support. And while more than sturdy enough to hold their own as stand-alone displays, the vinyl material offers added value because it never breaks, chips, or cracks.
Vinyl also offers economic benefits in other ways, according to PPM President William Saunders. "Vinyl Sign Holders are really light, and they ship flat. So shipping charges are lower and the volume can actually be much higher – it really gives you a nice return on the dollar." It's expected that PPM shoppers will be pleasantly surprised at just how many sign holders can ship for such a low cost.
While Economy Vinyl Sign Holders present cost-saving options for customers – especially those considering higher volume orders – the functional design makes them both user-friendly and an eye catching draw to the day's biggest promotions. "The slight tilt or slant projects promotional material right toward eye level…make no mistake, they may cost less but they still get the job done," added Saunders. The design also makes it easy to switch out point-of-purchase displays quickly, ideal for retailers with multiple and/or rapidly changing ads.
Specializing in manufacturing and distributing Acrylic Display Products, Signage, and Point-of-Purchase displays for more than three decades, Plastic Products Manufacturing has long been an industry leader. PPM has a strong reputation for its top quality standards, outstanding delivery, and an exclusive "Customer Bill of Rights." The company's sign holders, literature displays, chart pockets, display holders, and other industry leading displays are immensely popular across a broad cross-section of industries, including hospitality, medical, automotive, and food service operations.
Among its top accounts, PPM serves the needs of Glaxo Smith Kline, H & R Block, Proctor and Gamble, Starbucks, WalMart, Walgreens, Hertz, T-Mobile, Target, and Honda just to name a few. For more information about PPM and insight into these upcoming new developments, please visit http://www.plasticproductsmfg.com.