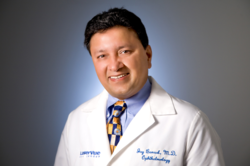 Because most people are candidates for LASIK, ICL's never come up, but the secret is starting to get out and we are excited about it. The ICL can correct very high levels of nearsightedness, all the way up to -20.00 diopters of myopia. Now almost everyon
San Francisco, CA (PRWEB) March 29, 2013
With four locations in San Francisco, Santa Rosa, San Jose, and Walnut Hill, Jay Bansal, M.D. of LaserVue Eye Center has seen thousands of patients walk through his doors looking for LASIK in the Bay Area. Dr. Bansal explains that most people are candidates, but for some, LASIK is not the right option. "We had to tell a few people that LASIK is not right for them, usually because of thin corneas, or another issue. However we now have a new option in the form of Implantable Collamer Lenses, or Implantable Contact Lenses, shorten into ICL's. Because most people are candidates for LASIK, ICL's never come up, but the secret is starting to get out and we are excited to be apart of it The ICL can correct very high levels of nearsightedness, all the way up to -20.00 diopters of myopia. Now almost everyone can have amazing, clear vision, even with ultra-high prescriptions."
Rather than applying contacts to the outer eye, ICL's involve a small, special lens being surgically inserted inside the eye. Dr. Bansal makes a small incision in the cornea and inserts the foldable, Visian ICL ®, between the iris and the natural crystalline lens. The new lens avoids contact with other structures of the eye and is invisible to others by how it is positioned. Unlike traditional contacts, the ICL requires no maintenance. This FDA approved procedure takes only 15 to 30 minutes and patients are able to see clearly within a few hours of the procedure.
"The ICL is absolutely remarkable. For some patients, they are so blind without glasses or contacts, and can't even see a bar of soap when dropped in the shower. For those patients, the ICL is life changing. Many patients that get the ICL see 20/20 or better"
****
About Laservue Eye Center and Dr. Bansal: With four locations serving the Bay Area, LaserVue Eye Center sets the standard for excellence in eye surgery and vision restoration on a very patient entered, individual level. Dr. Jay Bansal and his staff are highly experienced in All-Laser LASIK procedures as well as cataract surgery using state-of-the-art lifestyle lens implants. With over 20,000 surgeries performed, Dr. Bansal is a nationally recognized refractive surgery, LASIK, and cataract surgery expert.
Contact:
Phone: 1-800-527-3745
Main Office: Santa Rosa, 3540 Mendocino Ave., #200 Santa Rosa, CA 95403
Website: http://www.laservue.com