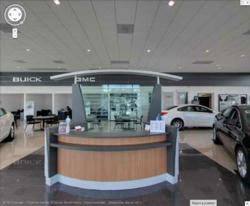 Charlotte, NC (PRWEB) March 28, 2013
On occasion Scott McCorkle, owner of Liberty Buick GMC Auto Dealership in Charlotte, NC has had a customer buy a new Buick or GMC Truck without ever taking a test drive. Those customers knew what they wanted, looked it up on the Clickliberty.com website and managed all of the paperwork through a combination of scans, faxes and phone calls with the sales team. The only time the client ever set foot in the dealership was to pick up the car. The online surveys that followed those sales resulted in glowing customer satisfaction reviews.
Encouraged by the excellent ratings, McCorkle began to research ways to increase the volume of sales using a virtual shopping experience. He partnered with Google and a local Charlotte company called Chasevision to create a virtual showroom. Using high speed panoramic camera equipment Chasevision took photos of every view of the showroom, service bay, parking lot and customer service area. Just by clicking on a link like this one the customer can walk through the dealership. They can browse all of the new models and zoom in on the price tags. Once they have identified a car that they like, the user is then invited to see the actual inventory on the lot. They can flip through dozens of photos of the car that they are interested in purchasing. Online chat is available for instant quotes if the price that is listed does not suit the buyer. He launched the program on March 25th, 2013 and is anxiously awaiting the results.
To take it up a notch for new car buyers the dealership will even bring a car to the client's home or office for a test drive if they are within a 20 mile radius of the dealership. Alternatively, they will have a car ready and waiting in the parking lot if a customer makes an online appointment to test drive a new vehicle. The client literally never has to set foot in the dealership!
McCorkle has this to say about the process, "Marketing data tells us that 70 percent of car buyers still want to come into a dealership talk with a sales person and negotiate a price. We wanted to reach out to that 30 percent that prefers not to interact. I get that. There are lots of places that I shop where the sales person is friend but I just want to go straight to the product. My staff and I want to provide a path for those people." He added, "We are grateful to Google and Chasevision for giving us the technology to get there. It's a great product!"
For some personality types less human interaction is preferred. McCorkle's next project is to study the demographics for this personality type and create communication to let them know he has a shopping method that meets their needs.