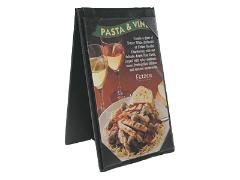 On a typical day last year, restaurants took in an average of $1.7 billion dollars
Norco, Ca. (PRWEB) March 29, 2013
The competitive restaurant and food and beverage industries are expected to benefit from a new visual aid, just released by Plastic Products Manufacturing (PPM). A new Table Tent from this longtime industry leader is the latest addition to a long line of successful acrylic display products…this one adding the look and appeal of leather.
Table Tents are proven winners when it comes to increasing sales, and that translates to significant profits in an industry whose growth has outpaced that of our national economy for the past dozen years. "On a typical day last year, restaurants took in an average of $1.7 billion dollars," said PPM President William Saunders. "And with some 970,000 food establishments all scrambling for their piece of the pie, as it were, you simply can't afford to NOT suggestively sell. There are a lot of eyes attached to those appetites, and everyone knows that hungry customers tend to eat with their eyes FIRST."
This latest "Leatherette" Table Tent will be no exception as a successful suggestive selling tool. It's actually a vinyl design that closely resembles leather, which naturally attracts both eyes and hands. Strategically placed promos, menus, and special offers are easily highlighted in these holders. Plus, they come in a multitude of dimensions to accommodate several different sizes of print material, which all insert easily. New vinyl table tents are also available in different colors, another bonus if trying to coordinate graphics and special themes as well as adding a nice reflection on the décor of many establishments.
"Another nice thing about these new table tents," added Saunders, "is that they're extremely lightweight and ship flat. So in addition to being very popular with higher end dining establishments and bars, they're also inexpensive in cost and inexpensive to ship. It's a real win-win."
And while customers drink in the view and order the newest specials from the double-sided easel, it should also be pointed out that it's not just the restaurant and bar industries that benefit from this style of Table Tent. Orders for retail displays and special event promotions, for example, are also anticipated. Especially cost-effective when ordered in volume, the Table Tent Leatherette provides a fine alternative to standard acrylic, another fixture at PPM.
Specializing in manufacturing and distributing Acrylic Display Products, Signage, and Point-of-Purchase displays for more than three decades, Plastic Products Manufacturing has long been an industry leader. PPM has a strong reputation for its top quality standards, outstanding delivery, and an exclusive "Customer Bill of Rights." The company's sign holders, literature displays, chart pockets, display holders, and other industry leading displays are immensely popular across a broad cross-section of industries, including hospitality, medical, automotive, and food service operations.
Among its top accounts, PPM serves the needs of Glaxo Smith Kline, H & R Block, Proctor and Gamble, Starbucks, WalMart, Walgreens, Hertz, T-Mobile, Target, and Honda just to name a few. For more information about PPM and insight into these upcoming new developments, please visit http://www.plasticproductsmfg.com.