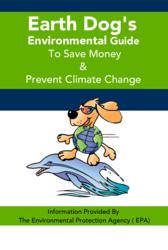 This Book Will Be Free at itunes and Amazon
(PRWEB) March 28, 2013
Environmental superhero Earth Dog is outdoing himself as Earth Day approaches by ramping up his fight to save energy and fight climate change—the "top dog" is readying a new book to help families conserve energy and give their children a cleaner planet.
In the spirit of Earth Day and the nation's renewed commitment to fight climate change, Earth Dog is preparing to release a new book, Earth Dog's Environmental Guide to Saving Money and Preventing Climate Change.
Scheduled for upcoming release, Earth Dog's Environmental Guide is a practical guide for the whole family–moms, dads and children of all ages–and everybody who cares about conserving energy at home to save money and the environment. It is the sequel to The Earth Dog Story, which launched the canine superhero's quest to save the planet.
The environmental message is timely, given that last year was replete with unusual and extreme U.S. weather events that raised questions about climate change: an historic Midwestern drought, massive East Coast storms like Sandy, brutal heat waves, and widespread wildfires in Western states.
With the nation poised to make advancements on the climate change issue, environmental superhero Earth Dog is emerging as a valuable educational tool to help with the fight. The Earth Dog Story e-book is featured on Apple iTunes and Amazon Kindle. Young readers are turning to e-books in record numbers, and e-book readership now surpasses that of traditional books, according to reports.
Environmental superhero Earth Dog educates young people around the world about environmental issues affecting their planet. He teaches problem-solving skills through understanding and cooperation to students for whom the environment is a top concern.
The Earth Dog Story was first published as a storybook in 1992, then in 1996 in cooperation with the U.S. Department of Energy as a part of its Environmental Out Reach Program with Weekly Reader. Now, the popular children's environmental superhero is making his comeback in app and e-book format with auto-narration to appeal to children of all ages. Earth Dog® became available as an app in iTunes and as an e-book, titled The Earth Dog Story, with the sequel to be published in time for Earth Day 2013. In addition, Earth Dog has spawned a new line of promotional products available on the new Earth Dog online store at http://earthdog.org/store/.
For more information, readers should visit the new Earth Dog website at Earthdog.org or The Earth Dog Story at Earthdogstory.com.