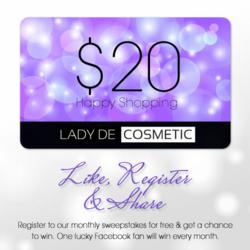 Our Facebook following is growing by leaps and bounds.
Los Angeles, CA (PRWEB) March 27, 2013
Lady de Cosmetic, the online makeup retailer known for their vast inventory of quality cosmetics products at discount prices, is running a new sweepstakes on their Facebook page. To become Lady de's "Fan of the Month" and win the $20 gift card, fans first need to "like" their Facebook page, then check in and register once a day to be entered. If they share the offer with friends, they get 5 bonus entries for each friend they bring along.
"Our Facebook following is growing by leaps and bounds," says Daniel D., Lady de Cosmetic's general manager. "We love our fans and we want them to share that love with their friends, and so we're making this $20 gift card offer."
Lady de Cosmetic has filled a need for affordable cosmetics in these hard economic times, enabling every working girl, teenager and young mother to buy makeup for less. Economic surveys have shown that luxury products, like high-priced cosmetics, are usually the first things to go when the average family balances their budget.
Lady de Cosmetic's products are intended to appeal to American tastes and sensibilities, and American girls seem to be responding, as Lady de Cosmetic is quickly gaining high visibility on the Internet from fashion bloggers and on social media sites. "Lots of colors, fine quality reasonable prices make Lady de Cosmetic's products a contender in the race with name brands," blogs one fashionista.
"People ask us how we can offer these incredible prices," says Daniel D. "For us, it's actually not that hard, as we have many long-established contacts with manufacturers of quality cosmetics abroad, and we can import huge consignments of these products at rock bottom prices. This gives our customers the same huge buying power that we have. We expect to add up to 500 more popular makeup and cosmetics products within the next few months. We look forward to see all our fans and customers happy, excited and beautiful."
To check out the contest, go here.
News Provided by the TRIXMEDIA Online Marketing Team