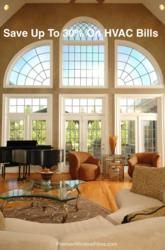 Save Up To 30% On HVAC Cost
Bethesda, Md (PRWEB) March 29, 2013
Premier Window Films is encouraging energy-conscious consumers to take advantage of newly restored federal tax credits—restored for 2013 after a temporary suspension—to save on purchase of its cutting-edge solar-control window tint films for homes and businesses.
Window film purchased in 2012 through 2013 could be eligible for tax credits up to $500. The American Taxpayer Relief Act of 2012 reinstated the energy tax credit, which expired in December 2011, for certain window film installations. The Energy Policy Act provides tax incentives for certain energy improvements to commercial buildings, including window film, through December 2013.
Windows are a major cause of energy loss, both in winter and summer—window films provide cost-effective energy savings while reducing greenhouse gas emissions. Premier Solar Window Tints can reduce consumers' energy costs by as much as 30 percent, according to the company. In addition, tax credits are available that significantly lower the installation cost.
Solar-control window tint has continued to grow in popularity among consumers amid concerns about energy consumption, according to reports. Tint addresses today's widespread architectural design problem of extensive expanses of glass, which can create hot spots and glare, as well as increase energy needs in the warmer seasons and climates.
Today's next-generation solar-control films reject more than 80 percent of the sun's total solar energy and block nearly 100 percent of ultraviolet light, according to the company. And importantly, innovations in film manufacturing technology now eliminate the need for extremely dark or reflective films. Through state-of-the-art metallization processes, window tint makers now offer solar-control films in a wide range of intensities and colors, including soft neutrals, charcoals and even near-invisible options.
Premier Window Films provides a retrofit option for homeowners and facility managers, giving standard glass the performance of low-emissivity windows at a cost savings of up to 80 percent over replacement "low-e" windows. Premier Window Films Offers Silver AG 50 Low E window film transforms standard glass into high-performance windows, reducing energy consumption year-round, lowering costs associated with heating and cooling, and improving a building's carbon footprint.
Buildings produce 39 percent of global greenhouse gas emissions in the United States. Peer-reviewed analyses show that the carbon footprint of Premier Window Films Offers films is much lower than the carbon footprint of new windows. The carbon footprint of standard window types – including aluminum, wood, PVC and curtain wall glazing – is at least 250 times greater than the carbon footprint of Premier Window Films Offers new low-e window film.
Premier Window Films offers commercial and residential window films for solar, safety and energy-saving solutions. Small businesses and major corporations alike are trying to reduce expenses and protect the bottom line. Premier Window Films for the home or office provide significant energy savings, maintain a more comfortable and productive environment, reduce interior fading and improve exterior appearance. Once installed, the films produce benefits for years to come, including impressive energy savings, protection from solar energy to improve year-round comfort, protection from broken glass and protection from ultraviolet damage. For more information, the public should visit the company's website at http://www.premierwindowfilms.net.
Congress recently enacted a bill, titled the American Taxpayer Relief Act of 2012, that includes tax incentives for energy efficient home improvements, such as installing window film,"
http://www.gpo.gov/fdsys/pkg/BILLS-112hr8eas/pdf/BILLS-112hr8eas.pdf
###