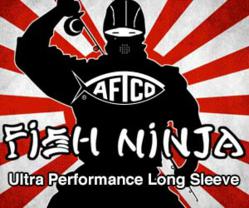 The AFTCO Fish Ninja combines popular performance clothing pieces into an all-in-one solution for ultimate UV sun-protection.
Santa Ana, CA (PRWEB) March 29, 2013
Leader in saltwater apparel and offshore tackle, The American Fishing Tackle Company (AFTCO), is proud to announce the release of its highly technical Fish Ninja Performance Fishing Sun Hoodie! The Fish Ninja performance sun hoodie combines popular performance fishing clothing into an all-in-one solution for ultimate UV sun-protection. Perfect for both offshore and inshore fisherman, the Fish Ninja offers head, neck, face, chest and arm coverage in one piece to provide the ultimate in protection from the harmful effects of the sun.
The 92/8 poly/spandex fabric blend is utilized for lightweight comfort and stretch that will not restrict movement. The UPF 50+ UV protection will protect you from 98% of the sun's harmful rays and keep you safe to enjoy a full day on the water. The attached hood with laser cut breathing holes at the nose and at the side seams will promote good ventilation and keep your sunglasses from fogging. To top it off, the 92/8 poly/spandex fabric blend is stain resistant, microbial, and has flat-lock seams for total comfort and strength.
AFTCO's technical line of saltwater fishing apparel is aimed directly at the alarming increase of skin cancer across the country. According to the American Academy of Dermatology and the American Cancer Society, melanoma and other skin cancers are on the rise, with between one and two million diagnosed cases per year. As the heat of summer intensifies, AFTCO's state-of-the-art technical fishing shirts like the Fish Ninja will help anglers, boaters, and watermen the confidence to enjoy the outdoors while protecting themselves from damaging UV rays. Find the Fish Ninja and AFTCO's full range of sun protection gear at your local dealer.