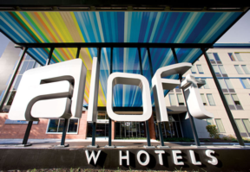 Starwood Hotels' Sizzling Aloft Miami Doral Hotel Now Open
MIAMI (PRWEB) March 29, 2013
The hip new 145-room Aloft Miami Doral, the first in metro Miami of the rapidly expanding Aloft ® brand, is now open in the booming area of Doral. The Starwood brand is about style-at-a-steal together with forward-thinking technology and public areas that encourage a buzzing social scene. With loft inspired design, rainbow hued accents throughout, and unique openness of a no walls, no limits space, it brings a fresh new product to Miami.
"A five minute drive from the Miami Free Trade Zone and major businesses in Doral, and 15 minutes from Miami International Airport, we're an ideal location for the business traveler in search of an exciting new hotel option, " said Claudio Bono, General Manager. "Leisure travelers, especially from the Caribbean and Latin America, will appreciate our proximity to Dolphin Mall and the Mall of the Americas, just five minutes away, as well as major golf courses," he continued. Most major sightseeing attractions are also little more than a 20 minute drive away.
The hotel is owned by Doral Hotel Enterprise, a division of Multiphone Group & Eurocom, LLC. Principal investors are Mr. Orlando Padron and Mr. Henry Contreras, both well known investors and entrepreneurs in the Doral area.
An open lobby features the w xyz ℠ bar with live music, DJs and events, and a grab and go gourmet for light meals and snacks overlooking a large, landscaped heated swimming pool. Another highlight is the re:mix lounge, a playful place or quiet space to read the paper, enjoy free WIFI or pick up a game of pool. Also offered are spacious 800 square foot suites with floor to ceiling windows, bathrooms with dual sinks and large walk in shower.
Other hotel facilities and services include a fitness center open 24/7, over 3200 square feet of meeting space, a plug & play station in guest rooms that charges cell phones, laptops and other electronics while linking to the 42" LCD TV and "Cool Concierge", a tablet based concierge program. Dogs get special treatment with a novel Aloft-branded bed and bowl and treats and toys. Camp Aloft offers kids a bed-in-a-bag and special treats.
Guest room amenities include complimentary WIFI, king or two queen plush platform beds, 250 thread count sheets, custom Aloft amenities by Bliss Spa, walk in showers, Aloft signature coffee and tea amenities, desk, ergonomic desk chair, and more.
Architects are Behar Font & Partners of Miami. Contractors are Ortega Juneau Construction.
Aloft has been conquering the globe with style since launching in 2005. Industry rocking initiatives in music, design and technology have made Aloft the must-have brand for the next generation of travelers. Select Aloft hotels within the portfolio have earned designations in Trip Advisor's 2012 "Top 25 Trendiest Hotels in the World" rankings.
For reservations contact 786 272-7200 or book online at http://www.aloftmiamidoral.com.
About Doral:
Celebrating its 10th Anniversary in 2013, the City of Doral is located in north-central Miami-Dade County, a short drive from Miami International Airport. An important center of business, trade and commerce, it is home to many of the region's largest companies and government installations, including the US Federal Reserve Bank, US Southern Command, Carnival Corporation, Miami Free Zone, Miami-Dade Police and Fire Departments as well as the US Hurricane Center. The Miami Herald will also be relocating their corporate and printing facilities to the city this spring.
According to 2010 U.S. Census, the city has a population of 45, 704 making it one of the fastest growing cities in Miami-Dade County, with a growth rate of 123.6%. With two major shopping destinations located in the city (Dolphin and International Malls), it is an important shopping destination, particularly from South America and the Caribbean. In 2008, Fortune Small Business and CNN Money ranked Doral as 51 on a list of 100 cities with the best mix of business advantages and lifestyle appeal. It also has one of the lowest tax rates for its residents due to the high number of industrial and corporate facilities.
About Aloft Hotels:
With more than 60 hotels in 10 countries, Aloft has changed the hotel landscape by offering 'style at a steal' everywhere from Baltimore to Beijing to Bogota to Brussels – and everywhere in between. For more information, please visit http://www.alofthotels.com. Aloft, like all brands within Starwood's portfolio, is proud to offer the Starwood Preferred Guest(R) program, which offers a breakthrough policy of no blackout dates on Free Night Awards. To learn more, please visit http://www.spg.com.