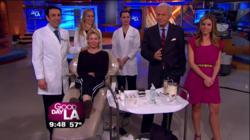 Los Angeles, CA (PRWEB) March 27, 2013
According to a March 8, 2013 Boston Magazine article, the chief of craniofacial surgery at Massachusetts General Hospital reports that an increasing number of men are undergoing plastic surgery. Approximately 30 percent of the individuals that have anti-aging procedures such as face-lifts and eye lifts and a staggering 40 percent of those operated on to correct structural imperfections are males. (Go to goo.gl/XwFU6). Examples of correcting a structural imperfection would be a nose job or chin augmentation.
"Undoubtedly, I see more male patients than ever before so the basis of this report certainly rings true for me," says Dr. Simon Ourian, Medical Director of Epione Beverly Hills. "I don't see any reason this trend won't continue to grow stronger."
Statistics from the American Society of Aesthetic Plastic Surgery indicate that nine percent of the total numbers of cosmetic procedures performed in 2011 were done on men. This represents a 121 percent increase when compared to 1997. (Go to: goo.gl/dafBE)
The report attributes this increase in plastic surgery for males to a combination of a culture that is obsessed with youth and a fierce job market. Some men are undergoing plastic surgery because of the perception that attractiveness and youth correlate to success in the work place. Though perhaps once seen as taboo, male plastic surgery has become more widely accepted.
The report also notes that men need to be careful about the surgery they intend to undergo because of the need to maintain their masculine facial structure. Many plastic surgery procedures, such as brow lift, were designed for women.
"I don't know that I agree with the reasoning for this trend offered in the article," says Dr. Ourian. "I don't think it's about a 'youth-obsessed culture' or the job market. Men, and older men in particular, are keeping themselves more fit than ever and they want their face to match younger looking body."
Dr. Ourian has been a pioneer in laser technology and non-invasive aesthetic procedures including Restylane, Juvéderm, Radiesse and Sculptra. These treatments are used for the correction or reversal of a variety of conditions such as acne, acne scars, skin discoloration, wrinkles, stretch marks, varicose veins, cellulite, and others. More information about the increase in men seeking plastic surgery can be found on Epione's website.