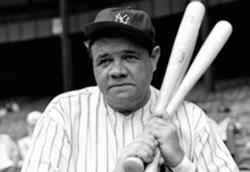 When it comes to the man that made the most impact for his team and for the game, there's no one better than Lou Gehrig
Los Angeles, CA (PRWEB) March 28, 2013
Babe Ruth holds steady at #1 on Ranker's "Greatest Baseball Players of All Time" list, a a crowd-sourced list on the consumer opinions website, Ranker.com. More than 900 people have voted on the list as of March, 2013 and the resounding sentiment is that the all-stars of the present don't have anything on the great players of the past. At #16, Nolan Ryan- who last played with the Texas Rangers in 1993- is the most recent ball player to make the list (Los Angeles Angels of Anaheim first baseman Albert Pujols is the top-ranking active player at #37).
The rest of the Top 10 Best Baseball Players are as follows:
1) Babe Ruth
2) Willie Mays
3) Lou Gehrig
4) Ted Williams
5) Ty Cobb
6) Hank Aaron
7) Stan Musial
8) Mickey Mantle
9) Joe Dimaggio
10) Honus Wagner
Baseball aficionado Andrew Tertitski, an ardent Yankees fan, disagrees with Babe Ruth's top spot. Said Tertitski, "Babe Ruth was an amazing player, fun to watch I'm sure, but when it comes to the man that made the most impact for his team and for the game, there's no one better than Lou Gehrig". On the topic of new players being absent from the top rankings, he posited that "too many people question whether these new guys are great because of talent or drugs".
See the full list of Top Baseball Players Ever, as well as 1000's of other Sports lists at Ranker.com.
Ranker.com is the premier data source for aggregated consumer opinions. Over seven million people go to Ranker each month to view, rank and vote their opinions on matters both entertaining and practical. Ranker's proprietary algorithms and datacentric approach to opinion aggregation deliver the most credible answers from "the best" to "the worst" across a wide range of topics including food, sports, travel, entertainment, cars and many others. For more information, visit Ranker.com.