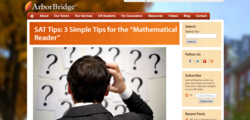 The goal of our blog is to establish ArborBridge and its employees as thought leaders in our industry as well as provide valuable insights for our readers.
Santa Monica, CA (PRWEB) March 27, 2013
ArborBridge will seek to engage readers on the ArborBridge Blog through practical resources and thought-provoking commentary. The blog, which was recently launched, will follow a bi-weekly posting schedule.
ArborBridge's team has years of combined experience preparing students for standardized exams, advising families on the testing process, and helping to meet the unique testing needs of international students. With their blog, ArborBridge hopes to share this expertise with a global audience of students, parents, and educators.
"The goal of our blog is to establish ArborBridge and its employees as thought leaders in our industry as well as provide valuable insights for our readers," said Lisa Helmers, ArborBridge's Associate Director of Development. "No other company is specializing in this market, and we believe that we can offer a unique take on international education."
The ArborBridge Blog will have a variety of contributors including ArborBridge full-time team members, ArborBridge tutors and test prep experts, and guest posts from industry connections. With a variety of contributors, the blog will have a wide and diverse voice, which will appeal to ArborBridge's diverse audience.
"We plan on reaching a variety of audiences including but not limited to; students, parents, high school counselors, school teachers and administrators, independent counselors, and other education companies and professionals," said Helmers. "We work with students all over the world in a vast variety of schools, and we hope that all of them will find something useful on our blog."
The company's top bloggers will include Director of Instruction, Kate Ballard-Rosa, and Director of International Development, Josh Stephens.
Ballard-Rosa is a graduate of the University of California at Berkeley with a major in Political Science. After receiving a perfect 2400 on her SAT and 36 on her ACT, she began working with other students to help them achieve their highest potential score on standardized tests. With over ten years' experience, Kate's students average a 19.5% increase in test scores, and 70% of her students test at or above the 90th percentile.
As an ArborBridge Blog contributor, Ballard-Rosa will use this wealth of knowledge and experience to provide free testing advice and valuable tips to students preparing for standardized tests.
In addition to providing unparalleled test prep advice, ArborBridge will also chronicle the travels of ArborBridge's Director of International Development, Josh Stephens. Stephens travels around the world to meet with schools and professionals in order to learn how to best meet the needs of international students preparing for US-style exams. These trips provide Stephens with a wealth of information on the educational environment overseas, which he will share with ArborBridge Blog readers.
"It is exciting and fascinating to visit schools around the world and learn about their students' college ambition," said Stephens, a longtime educator and former college counselor. "It is doubly exciting to be able to collect my thoughts and present them to a discerning readership such as the students, parents, and counselors who read the ArborBridge Blog."
Readers interested in learning more about the ArborBridge Blog content and its contributors can visit http://www.arborbridge.com/blog for recent and archived posts. For timely updates, readers can subscribe to the ArborBridge Blog via rss feed or email alerts.
About ArborBridge
ArborBridge has helped hundreds of students from 18 different countries maximize their potential score on the SAT and ACT. Their students have seen SAT point increases exceeding 600 points and gained admission to top colleges like Stanford, Cal Tech, NYU, Columbia, Penn, and Georgetown.
ArborBridge tutoring is live, one-on-one, and delivered online by elite American tutors using ArborBridge's proprietary SAT/ACT curriculum, specifically designed for online tutoring. ArborBridge was founded in 2011 by Tim Urban and Andrew Finn, who previously founded Launch Education Group, a premier in-person tutoring firm with offices in Los Angeles and Manhattan.