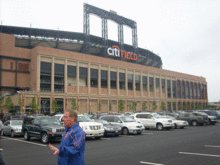 It's a total baseball and baseball history immersion tour and we know most fans can't book suites or players on their own so that makes the trip truly extra special and exclusive.
New York, NY (PRWEB) March 27, 2013
The first day of baseball season is welcomed by fans ravenous for the sights, smells, sounds and feelings that they can only get from their favorite sport. What better timing for an award-winning tour company to make 40 spots available for a baseball fan's fantasy tour of a lifetime; a multi-city 10-day Ultimate Baseball Bucket List Trip, July 11-21, 2013. This ultimate baseball tour will include attendance at the Major League Baseball All-Star Game, the Celebrity/Legends Game, the All-Star Home Run Derby, and the All-Star Fan Fest, a visit to the National Baseball Hall Of Fame, private events featuring visits with ex-players, scouts, writers, and historians, enjoy sitting in suites, private areas or prime seats at four major league and four minor league parks including Boston's Fenway Park and New York's Yankee Stadium, and much more. The trip can be purchased online at http://www.brownpapertickets.com/event/355982, or by calling Brown Paper Tickets' 24-hour customer service at 1-800-838-3006 before April 20.
The tour is curated and hosted by Food On Foot Tours of New York City, a 2011 and 2012 TripAdvisor Award of Excellence winner. The accolade, which honors hospitality excellence, is given only to establishments that consistently achieve outstanding traveler reviews on TripAdvisor. Approximately 10 percent of accommodations listed on TripAdvisor receive this prestigious award.
"No one has ever attempted a tour like this. With the All-Star Game in New York and many folks with a connection to bygone franchises getting older this is the only time this tour can ever be done," noted Corey Taylor of Food On Foot Tours. "This tour is truly the ultimate baseball experience, it's the gold standard of baseball trips." Taylor added. "We'll be visiting cemeteries, old ballpark sites, museums and meeting with historical societies such as the Boston Braves Historical Association. Tour participants will enjoy upscale accommodations, free admission to over seventy New York attractions, a New York dinner cruise, an authentic Chinese banquet, an ethnic food tour and exclusive amenities. It's a total baseball and baseball history immersion tour and we know most fans can't book suites or players on their own so that makes the trip truly extra special and exclusive."
The baseball fantasy tour includes stops in historic hotbeds like Brooklyn, Harlem, Newark and Philadelphia. One of the planned stops is the famed Parade Grounds in Brooklyn where some of baseball's greatest players got their start. "BROOKLYN is where the fields are. The best players from New York City play in Brooklyn. Sandy Koufax, Joe Torre, Shawon Dunston and Manny Ramirez are all Parade Grounds legends who ended up as MLB stars. Growing up playing on these same fields, I was inspired to be the next one to make it from Brooklyn," said current major league pitcher Adam Ottavino of the Colorado Rockies.
Another highlight according to Boston Braves Historical Association President Bob Brady is the stop to explore the other side of Boston's rich baseball history. The Braves Field site at Boston University's Nickerson Field is one of baseball's historical rare gems where today one can still stand in front of the building where Babe Ruth signed his last contract as a player and can sit in the former ballpark's surviving right field pavilion.
Because of space limitations at the ballparks the July 11-21, 2013 trip is limited to 40 participants. Information is available at http://www.baseballbucketlisttrip.com.