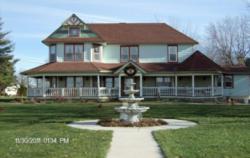 "We do not have political clout or dollars to influence policy, but we own Whisper Rock Victorian Dreams Vacation Home in a small town where people love America and our democracy."
Belleville, Wisconsin (PRWEB) March 28, 2013
Whisper Rock Victorian Dreams Vacation Home owners, Lynn Owen and Jim Magrone, sent an e-mail to President Obama, inviting him and key Congressional members to stay, free of charge, at their Vacation Rental in Belleville, Wisconsin. An excerpt from the e-mail explained:
Why Belleville? This diminutive village represents middle-income America. Your constituents elected you, and Congress, to take time to create a new plan toward the financial health of America. This invitation challenges you, Mr. President and Congress to sit on a perfectly middle-American Victorian porch, perhaps in the gazebo, enjoy some refreshments then, break the financial gridlock, and show everyone that your intentions are truly for the benefit of all of the people.
While sitting on the porch in Adirondack chairs, looking at the lake with Canada Geese, Sandhill Cranes, and occasionally, a Bald Eagle soaring above, positive thinking comes easily.
In closing their e-mail, "Given the financial shape of America today, a great number of middle-class Americans are in great distress. You are only one man, but your voice is a positive dream for the country and us. Positive thinking is our mantra, and all of the country's elected leaders should share this attitude."
Magrone commented, "All middle-class Americans, from Berwick Pennsylvania, to not-so-small Chicago Illinois, to Luckenbach, Texas to Pope Valley, California and beyond, would applaud a solution to America's financial problems". Magrone then stated, "We do not have political clout or dollars to influence policy, but we own Whisper Rock Victorian Dreams Vacation Home in a small town where people love America and our democracy."
Owen then said, as "Whisper Rock Victorian Dreams is licensed by the state of Wisconsin, it will still cost us money to do this; in fact, we will need to pay State and Federal taxes on this should the President come to take us up on the offer."
If President Obama and Congress decide to meet in Belleville, Owen and Magrone plan to take their fifth wheel camper and leave their restored Victorian. They plan to head out to a campground for as long as it takes the negotiations to bear fruit.
If the President and key Congressional members need a break from their negotiations, they can canoe, sail, or kayak just across the street on Lake Belleview. Belleville also offers many different walking trails: the circle around the island, the trail around the lake, and Wisconsin's state hiking and biking trail system. This trail system crosses the Sugar River via a trestle bridge, and then leads to an old tunnel a mile or so south of town. This trail system stretches out over many miles to neighboring Madison and beyond in all directions. If bowling is their thing, there is a bowling alley, restaurants, and bars within walking distance of Whisper Rock Victorian Dreams Vacation Home.
The spirits and ghosts, who live here at Whisper Rock Victorian Dreams Vacation Home, include long-buried Native American Indians and runaway slaves traveling along the Underground Railroad. It might just be that these same ghosts or spirits could expedite the negotiations.
Owen stated, "Our vacation rental is available by the week and contains premium amenities, but, I would guess that our amenities are not quite on a par with those found at the White House."
Whisper Rock Victorian Dreams Vacation Home is located in Belleville, Wisconsin. Please call 608-424-3442 for a vacation reservation or an appointment to visit the property. Their website is http://www.wrvd.net or e-mail at dream(at)wrvd.net.