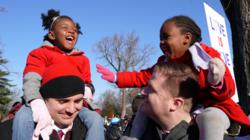 Having the extraordinary privilege of watching these childrens' souls grow and thrive despite the obstacles placed before them has been the lesson of our lives.
Washington, DC (PRWEB) March 28, 2013
With two major cases regarding same-sex marriage being heard at the Supreme Court this week emotions are running high on both sides. Society at large is weighing in on what it means to allow same sex marriage and who it will affect most. Justice Kennedy recognized that there are a substantial number of children who are and will be impacted and that the decisions being made not only impact the parents ability to marry, but the children as well. He was quoted as saying:
"There are some 40,000 children in California, according to the red brief, that live with same-sex parents, and they want their parents to have full recognition and full status. The voice of those children is important in this case, don't you think?" -Justice Kennedy
Justice Scalia admitted he wasn't sure of the impact of same-sex adoption and asked:
"Do you know the answer to that, whether it harms or helps the child? … That's a possible deleterious effect, isn't it?" - Justice Scalia
After having attended a rally outside the supreme court with his children, one same-sex parent has heard the call of Scalia and Kennedy and is seeking to answer them with an open letter about his family. Jack Montgomery wrote the open letter and self published it on his new domain dearscotus.com. His hope is that the supreme court does indeed side in favor of protecting children and his children in particular. A walkthrough of excerpts from the letter helps spell out his case on behalf of his children.
Mr. Montgomery identifies himself and his husband to the justices as an inter-racial, same sex family and hopes that the Supreme Court can try to see the two cases through their perspective:
"I know that you are listening to these cases from a nationally-scaled legal point of view, but the intent of this letter is to offer you the lens and point of view of one individual family your rulings will affect."
He continues with the story behind how they decided to adopt through the foster care system seems relevant to the letter, as the heterosexual, biological parents are not what any court would consider ideal:
"Children who are placed in the care of foster systems throughout this nation have suffered from either the neglect or the abuse of their biological families. For all intents and purposes, we will call this deleterious parenting. Sadly my children were born into these circumstances."
Citing privacy concerns, Mr. Montgomery decides to refer only to their condition when his children arrived in their new home rather than on the events that caused them to be in foster care. He also discusses the improvements since their arrival:
"When our children arrived we welcomed a five-year-old who was not potty trained, a two-year-old who was withdrawn, and an almost two-year-old who never learned to walk. Please understand that there were no biological impediments to the development of these children. Their situation was entirely brought on by deleterious parenting."
The parents, Mr. Montgomery and Mr. Vielmo do not want to be seen as saints for what they have done and are thankful for their family, but introduce specific concerns on what the Supreme Court decisions may or may not mean to their children. Their concerns include where they can legally live as a family, how they are recognized by the IRS, and how their assets will be treated should one of the parents die:
"I tell this story to establish myself as an expert witness to the effects of deleterious parenting. As you prepare your response on Proposition 8 and DOMA you now have the opportunity to decide what further obstacles will face these children. What are the deleterious effects your decision will have on my children?"
Having lived as a parent in a conspicuous family he again alludes to drawing attention in public, but recognizing the the problem the court faces isn't about the social stigma, but about the rights of his kids' family:
"I accept that the stares our family receives walking down the street on a daily basis elicits both judgment and inspiration. What I do not accept is that the United States of America is willing to devalue my childrens' family more than others and have a separate grouping of laws and benefits."
He closes with a simple prayer that the justices do all in their power to keep deleterious obstacles from further harming his children.
The letter can be found in its entirety at dearscotus.com