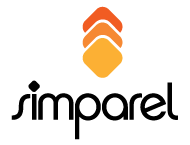 We are very happy with our accomplishments this quarter, and are looking forward to continuing the pace as we go on throughout the year.
New York, NY (PRWEB) March 28, 2013
Simparel, developer of the fastest growing fashion and apparel ERP solution in the North American marketplace, today released its first 2013 quarterly update highlighting new projects and customer implementation success stories, setting the pace for continued success in 2013.
New Projects and Customer Implementation Successes

In the first quarter of this calendar year, Simparel has continued its growth by adding new clients and projects in the apparel, home furnishings and accessories markets. Included among those projects are an accessories company on a growth curve, and a brand development & manufacturing company who plans for Simparel to be their standard platform for their portfolio companies and new acquisitions.
There were several customers who successfully completed implementation of the Simparel Unified Global ERP Solution this quarter. Included in those successes, is the largest apparel brand in the United States launched over the web. As a manufacturer who sells almost exclusively online, this was a unique project for Simparel that proved successful due to the inherent flexibility of the apparel ERP solution. Simparel will provide the support for the company's rapid growth through improved operational efficiencies and cycle time reductions.
Another noted success is the implementation of Simparel at a leading headwear manufacturer where a disparate environment of 15 or more different systems was replaced with one, completely unified fashion ERP solution. The manufacturer is now better equipped to handle the changing needs and diversity of their product lines. Simparel also expanded their versatile warehouse management system to streamline the company's call center to ensure order accuracy and a reduced time from order to shipment.
Consistent with previous years, and exemplifying the success customers are experiencing with Simparel, two fashion and apparel manufacturers will be recognized in the upcoming Apparel Magazine '2013 Top Innovator' issue. The issue will highlight how each company displays innovation in their business operations, and how they have leveraged their implementation of Simparel to further enhance their innovative practices and better serve their customers.
"We are very happy with our accomplishments this quarter, and are looking forward to continuing the pace as we go on throughout the year," comments Roberto Mangual, Simparel's Vice President of Operations. "On the solution side, we have made some tremendous product enhancements to allow our customers to achieve functionality that is not typical in traditional fashion ERP solutions. Our unique inherent flexibility and the advanced nature of the technology Simparel is built on is what makes these enhancements possible. In addition to our ongoing enhancements, we have new product releases scheduled for the upcoming quarter, including a more comprehensive Business Intelligence Reporting Suite. We continually strive to improve the product and ensure that we not only meet, but exceed, our customer's needs and expectations."
About Simparel
Designed specifically for the apparel, footwear, home furnishings and accessories industries, Simparel enables manufacturers to reach their full potential by accelerating performance across the entire company, as well as their global supply chain. The Simparel Unified Global ERP Solution provides global enterprise visibility and collaboration throughout the PLM, Supply Chain Management, Order-to-Cash, EDI, Logistics and Distribution processes.
True end-to-end functionality lets customers focus on products and sales by making business decisions faster and easier, improving product delivery, and facilitating cost and inventory management. This unified model approach has been proven to enable greater agility, flexibility and responsiveness.
Simparel's next generation software architecture is faster to deploy and extend, delivering a magnitude of scalability and performance improvements over traditional solutions.
Find out why Simparel is the fastest growing ERP solution, visit http://www.simparel.com or contact us at info(at)simparel(dot)com or call 212-279-5800.