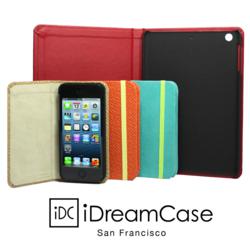 Using this improved tray for our unique cases will match the quality users expect for their devices
San Francisco, CA (PRWEB) March 28, 2013
Increased demand for iDreamCase's tablet products reinforces the superior quality of each case—both in design and durability. After the success of the iPhone5 sleeves, these new members to the iDreamCase family include a rich color palette coupled with the sturdy, handcrafted construction of each and every case. The new rubberized tray feature reflects an evolution of the iDreamCase line. The improved iPad mini case and iPhone5 case design can lengthen the life of these special cases.
"Our entire product line is guided by the same principle: create a case that our clients will love. Using this improved tray for our unique cases will match the quality users expect for their devices," says iDreamCase owner, Gabi Hanoun. "Plus, it looks great with each color case we offer."
With no shortage of tablet and smartphone options, differentiation is vital for this growing collection. Solid design and craftsmanship, as well as unique customization options, provide iDreamCase clients the opportunity to create a case that fits their individual lifestyle.
About iDreamCase
iDreamCase handcrafts superior quality, truly handmade products using only the finest materials. Guided by our strong commitment to handmade artisanship, iDreamCase designs and creates luxuriously protective handmade iPad cases, iPad mini cases, iPhone5 cases, Nexus7 cases, Kindle Fire HD cases and sleeves and iPhone 4/4S/5 sleeves. Made from elegant fabrics imported from Italy and exclusive black genuine leather, iDreamCase products offer a superior design aesthetic, provide sophisticated style and protection, and reflect centuries-old, unmatched handmade craftsmanship. Master bookbinder Gabi Hanoun artfully weaves over 30 years experience into each handmade tablet case and sleeve and smart phone sleeve, truly revolutionary products in handcrafted artistry. More information, http://idreamcase.com