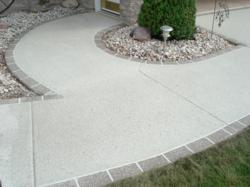 "We take pride in our concrete repair and decorative concrete services." - McHugh's Decorative Concrete
Greenville, Wisconsin (PRWEB) March 28, 2013
By utilizing the latest decorative concrete industry products and techniques, McHugh's Decorative Concrete recently completed a concrete repair project in Greenville, Wisconsin. This Greenville decorative concrete contractor used concrete overlays – thin, customizable layers of concrete to resurface and repair the damaged surface.
Concrete overlays provide a thin, fresh, even surface over concrete, tile, wood and other materials, which can then be customized with decorative concrete techniques like acid staining, stamping, scoring and more to create attractive, durable and unique surfaces.
McHugh's Decorative Concrete works with both residential and commercial clients as a decorative concrete contractor in Greenville and the surrounding areas, including Appleton, Neenah, Oshkosh and nearby cities. Their decorative concrete specialties include concrete repair, stamped concrete patios, epoxy garage flooring and several other applications designed to upgrade and enhance virtually any surface.