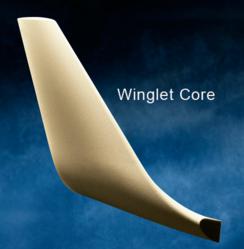 ICERP 2013 is a superb opportunity to showcase our products and capabilities to engineers and end users, as well as other potential customers and partners from across the region
Tacoma, WA (PRWEB) March 29, 2013
General Plastics Manufacturing Company will be participating in the International Conference and Exhibition on Reinforced Plastics (ICERP 2013) in Mumbai, India, April 4-6, 2103. It will be exhibiting with its distribution partner, Polymer Technologies at booth #C7. The companies will spotlight General Plastics' premier LAST-A-FOAM® FR-4500 Tooling Board, and its LAST-A-FOAM FR-6700® Aerospace-Grade and Sign Block series.
"We are very excited about participating in the ICERP show, which is expected to attract more than 8,000 composites industry professionals from India and around the world," said General Plastics President Bruce Lind. "We have already received overwhelming interest from existing and potential customers who understand the benefits of using our products for tool and die applications, and in 3-D signage."
LAST-A-FOAM® FR-4500 Tooling Board is a family of tough, high-density polyurethane substrates useful in making master models, rapid prototypes, mold and foundry patterns, and composite tooling – applications in which a uniform, grain-free, dimensionally stable and highly machinable material is desired.
LAST-A-FOAM® FR-6700 Aerospace-Grade Series – This flame-retardant rigid foam for aircraft composite cores withstands process temperatures up to 121 ºC. It is an excellent choice for models and design prototypes, vacuum-form dies and mold patterns, and honeycomb edge closeout for aircraft interior sandwich panels.
LAST-A-FOAM® Sign Block is a fine-cell-structure, high-density polyurethane foam that allows for easy finishing with nearly any coating system. This foam can also be bonded using a wide variety of adhesive systems. It is available in densities ranging from 160 kg to 288 kg per cubic meter, and in a wide range of sheet sizes and thicknesses. Sign Block is readily finished or painted using virtually any material. Whether carved, routed, sandblasted or machined, it is ideal wherever a uniform, grain-free, long-lasting and dimensionally stable material is desired.
"ICERP 2013 is a superb opportunity to showcase our products and capabilities to engineers and end users, as well as other potential customers and partners from across the region," Lind added. "As we continue to expand internationally, General Plastics is actively seeking distribution partners with complementary product lines and a shared commitment to service excellence – like Polymer Technologies – to support our growth in India and worldwide.
About General Plastics Manufacturing Company
Tacoma, Washington-based General Plastics has been a leading innovator in the plastics industry for more than 70 years. The company develops and manufactures rigid and flexible polyurethane foam products, which include its signature LAST-A-FOAM® brand series and build-to-print composite parts. Through its network of distributors, General Plastics exports products to 25-plus countries for the aerospace and defense, nuclear containment, composite core, prototype and modeling, construction, dimensional signage, testing, marine, and renewable energies industries. General Plastics is certified to ISO 9001:2008/AS9100C and meets such demanding quality systems as NQA-1, Mil-I-45208A and Boeing Company D6-82479. Visit http://www.generalplastics.com.
About Polymer Technologies Pvt. Ltd
Based in Chennai, India, Polymer Technologies offers advanced composite solutions to the Asian and Indian composites industry. Visit http://www.polymertec.com.