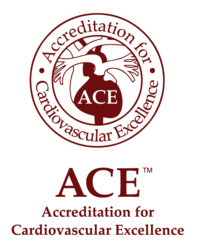 We cannot sit on the fence about public reporting – the train has left the station. It is better to take charge than have this process controlled by others.
Gregory J. Dehmer, MD
Washington, DC (PRWEB) March 28, 2013
The Accreditation for Cardiovascular Excellence (ACE), is pleased to announce record attendance at ACE exhibit booth N6449 during ACC.13, March 9-12, 2013 in San Francisco, CA. Increasing interest in ACE Accreditation and E3 Expert, External Evaluation services was elicited through a number of excellent presentations, most notably on March 10, 2013:

Ralph G. Brindis, MD, MPH, FACC, FSCAI: Integrating AUC in NCDR: Present and Future
Charles E. Chambers, MD, FSCAI: Cath Lab Accreditation: Pros, Cons, Implications
Moreover, Gregory J. Dehmer, MD, FACC, FACP, FSCAI, Director of Cardiology, Scott & White Healthcare, Temple, Texas, presented a provoking symposium on public reporting at the James T. Dove Lecture on March 11, 2013. Cautioning the cardiovascular community that "we cannot sit on the fence about public reporting – the train has left the station," Dr. Dehmer emphasized the fact that cardiac cath lab (CCL) and physician performance is being tracked and reported now.
Noting that public reporting is integral to the future of health care, Dr. Dehmer emphasized that quality metrics, peer review and best data statistics are all tied to physician reimbursement. "It is important to learn how to use public reporting properly, remarked Dr. Dehmer. "It is better to take charge than have this process controlled by others."
ACE, the only organization to accredit the CCL, and the sole provider of Expert, External Evaluation (E3) More Than Peer Review by clinical cardiology professionals, emphasizes the medical record as the foundation for quality patient care. A recent report published by ACE determined that, although cardiac cath labs provide excellent care to patients, most do not meet quality reporting standards. Increasing public scrutiny demands key quality indicators be met. Accurately documenting the factors that support the determination of appropriate use is essential to quality patient care and moderating risk for all stakeholders. "Cath labs can benefit from ACE services through the development of an integrated quality program and a thorough and in-depth review of documentation," said Mary Heisler, RN, BA, Executive Director, Accreditation for Cardiovascular Excellence. "The interventional cardiology community is beginning to understand the value of ACE services due to the reality of our results-oriented healthcare environment."
About Accreditation for Cardiovascular Excellence
ACE, an independent organization sponsored by the Society for Cardiovascular Angiography and Interventions (SCAI) and the American College of Cardiology Foundation (ACCF), offers independent evaluation and monitoring of facilities that provide cardiovascular care. By reviewing facility and operator performance and comparing clinical decision-making to nationally accepted best practices, ACE peer review and accreditation services plays a critical role in continuous quality improvement programs. Learn more at http://www.cvexcel.org.