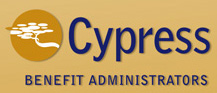 We are introducing next-generation cost control programs that allow employers to build their own plans and empower their employees to become smarter healthcare consumers.
Appleton, WI (PRWEB) March 28, 2013
After completing a multi-year cost analysis late last year, Cypress Benefit Administrators has just released the newest data. The latest findings reveal that in 2012, for the fifth straight year, the third party administrator (TPA) was able to keep its rate increases for employer medical plan costs well below the national average. Cypress's clients experienced, on average, an increase of just 1.87%, compared to rate increases of 6.6% in the United States as a whole.
The long-range numbers for Cypress have been just as impressive as those for 2012. For the five-year span from 2008-2012, annual data from three national industry studies report the U.S. average for employee plan increases to be 7.29%, while Cypress Benefit Administrators has managed a 2.81% average increase over this same five-year period.
Obviously, what Cypress is doing is working. It is offering employers an option beyond traditional employee benefit plans. President and co-founder Tom Doney attributes the company's ability to control rate increases and contain costs to the TPA's self-funded employee benefit plans, which are strategically tailored to each employer. "We are introducing next-generation cost control programs that allow employers to build their own plans and empower their employees to become smarter healthcare consumers," Doney said.
A TPA serving 49 states, Cypress Benefit Administrators specializes in self-funded benefits. The company's approach to plan structures allows employer clients to select a variety of pick-and-choose options – including claims review, medical advocacy and telemedicine – and further tailor them to their specific population needs.
"As healthcare expenses keep climbing, we've focused our efforts on implementing the most appropriate, cost-effective solutions," Doney explained. "By doing our research and being resourceful, we have been able to limit rate increases for five years in a row."
Doney also credits the TPA's success in cost containment to The Cypress Solution – a proven process made up of four medical risk management components. He said significant savings have been achieved through the company's emphasis on claims reduction, employee involvement, cost monitoring/management and overall plan assessment. "This approach allows employer clients the nimbleness to take advantage of the industry's latest trends and cost-saving programs – and it's all adding up to extra savings," Doney said.
Other highlights from the 2012 findings include:

The company's 2012 average of $9,156 PEPY (per employee per year) for employers utilizing Cypress Benefit Administrators, as compared to the higher U.S. average of $12,616
Less than $100 in total PEPM (per employee per month) increases for employers utilizing Cypress Benefit Administrators over the past six years
PEPY and PEPM statistics include employer paid cost of medical and dental claims, administration fees, stop loss premiums and all other related costs. The annual cost statistics analyzed were sourced from studies published by Milliman Medical Index, Aon Hewitt Health Value Initiative Database and Towers Watson Health Care Trend Survey (2007-2012).
Since starting business in 2000, Cypress Benefit Administrators, a privately held company headquartered in Appleton, Wis., has evolved into more than a third party administrator (TPA) by pioneering the way toward cost containment in healthcare as the country's first TPA to bring claims administration, consumer driven health plans and proven cost control measures together into one package. Its customized employee benefit packages combine an appropriate mix of health insurance options that allow for adaptability to the ever-changing healthcare environment and that make sense for employers of 50 to 18,000 throughout the United States. For more information on Cypress Benefit Administrators with offices in Portland and Salem, Ore., Omaha, Neb. and Colorado Springs, Col., visit http://www.cypressbenefit.com.