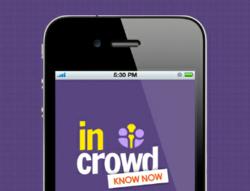 It would be wonderful to find our next InCrowd hires here at Startup Institute Boston
Cambridge, MA (PRWEB) March 29, 2013
Who hasn't thought of starting their own company, hanging out their own shingle, doing their own thing? InCrowd, a local Boston technology startup, is very familiar with the idea of forging their own path and jumped at the opportunity to partner with Startup Institute Boston. InCrowd began as a female owned tech startup, has a history of doing things their own way and was more than happy to share their experience and learnings with those interested in pursuing the path less traveled.
Startup Institute Boston, formerly Boston Startup School, was founded in early 2012 as a way to jump-start the careers of those looking beyond the corporate world. Boston, being a startup hub, was an excellent place to launch the school and provides a near endless supply of local startups looking to hire great people. These startups bring real time experience to the classroom, and act as instructional mentors to the class. The institute also provides companies an opportunity to get personally involved in cultivating the ecosystem and creates a strong recruiting channel.
"We've found working with Startup Institute Boston to be a much more personal experience. It was helpful to receive resumes and profiles but even better to personally meet many of the students during the recent Open House," says InCrowd CEO, Janet Kosloff. "Next month I'll be doing a fireside chat with the students. It gives me an opportunity to tell the InCrowd story, share my experience in starting a technology company and answer their questions, all in a very informal setting."
InCrowd has partnered with Startup Institute Boston for the spring session and will interact closely with this group of students as they work through the two-month, immersive curriculum. During the first quarter of 2013, InCrowd added seven team members and has their sights set on continued growth and team building as the year progresses. Janet commented, "It would be wonderful to find our next InCrowd hires here at Startup Institute Boston."
About InCrowd, Inc.
InCrowd's (Twitter @InCrowdNow) on-demand platform provides direct and immediate access to Crowds of screened and targeted healthcare professionals. Crowd queries are fast, easy and specialized for the healthcare industry. Micro surveys facilitate fast response rates, while specialized crowdsourcing provides answers within hours, even minutes. InCrowd is the only company offering healthcare focused real time market research. For more information, visit incrowdnow.com.
About Startup Institute Boston
Startup Institute Boston (Twitter @startupinst) works with young professionals and recent college graduates to equip them with the skills needed to have an immediate impact on the startup company they join. The program is a full-time, immersive, two-month experience designed to align passion with profession, and usher students into a life they love. For more information, visit boston.startupinstitute.com.