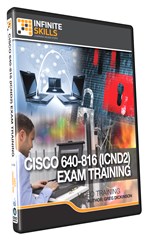 Prepare For The Cisco 640-816 Exam
(PRWEB) March 30, 2013
Software training firm InfiniteSkills Inc. this week introduced its "Cisco 640-816 (ICND2) Exam Tutorial," a course teaching all the requirements for one of the two required exams for Cisco's "network administrator" certification.
Cisco offers tiered certification levels from the entry-level CCENT course, to the upper-level "architect" certification. After passing the entry-level CCENT exam, both the ICND1 exam and the ICND2 exam must be passed to attain the "network associate" certification.
Cisco 640-816 (ICND2) Exam Video Training is available on its own or bundled with Cisco 640-822 (ICND1) Exam Video Training at a discounted rate for both courses.
With the Cisco 640-816 (ICND2) Exam Tutorial, network professionals seeking to become officially certified Cisco associates can access all the information covered on this required exam. Student's can access lessons right from their computer or mobile device and quickly view lessons in any order they need.
Cisco 640-816 (ICND2) Exam Training Video
Course author Greg Dickinson has worked in computer networking for more than 15 years. His experience includes work with Novell, Zenworks, Microsoft, and both Cisco Voice and Data networks. Dickinson has been Cisco certified for six years, and spent the last several years working with Cisco voice and data networking for a small company in Birmingham.
Dickenson's clear and familiar teaching style makes learning this complex material simple and fast. Having an expert explain concepts creates a more user-friendly learning environment than learning complex skills from a manual, giving users a competitive edge in their training.
Here, Dickenson covers all the material on the ICND2 exam, beginning by explaining virtual LANs and how to maintain them. The course then covers IP Routing, explaining subnet masks, working with IP addresses, and connected and static routes.
Other technical details of networking covered here include EIGRP and authentication implementation, OSPF, working with WAN Links, virtual private networks, access control lists, and more—all the information users need to pass this required exam.
"I'm really excited about teaching this course," Dickenson says. "You never truly learn a product or a technology until you have to teach someone else how to use it, so I get a deeper understanding of technologies that I use in my day to day business."
Free demo videos and a full list of course contents can be found on the Cisco 640-816 (ICND2) Exam Tutorial training page of the InfiniteSkills website:
http://www.infiniteskills.com/training/cisco-640-816-icnd2-exam-training.html
InfiniteSkills offers its Cisco 640-816 (ICND2) Exam Training Video either as a DVD or a direct download from the company website at a retail price of $99.95. The bundle, including this course along with the Cisco 640-822 ICND1 Tutorial, is available at a discounted rate of $149.95. All InfiniteSkills titles and formats are compatible with Mac and Windows operating systems. Shipping is available around the globe. Additionally, InfiniteSkills tutorials are supported by project files which correspond to examples in the videos, allowing users to work alongside experienced instructors right on their computer or iPad.
About InfiniteSkills Inc.
A leader in the field of software training, InfiniteSkills strives to offer the highest quality training available at an affordable cost. InfiniteSkills tutorials are task-oriented instructional videos, teaching complex skills by providing hands-on examples and guiding users as they carry out critical objectives. InfiniteSkills offers a comprehensive range of software titles available as DVDs, digital downloads, and in iPad editions, keeping with company aim of delivering professional training to customers anywhere they want to learn.