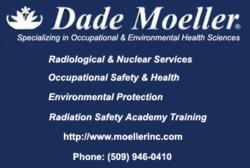 Richland, WA (PRWEB) March 28, 2013
Dade Moeller's training division, the Dade Moeller Training Academy, has added a new course to its lineup of professional radiation and occupational safety training. The new "Medical X-ray Safety" course specifically addresses the radiation safety concerns and regulatory requirements of medical professionals who work with radiation-emitting medical imaging machines, including fluoroscopy systems, positron emission tomography (PET) units, and X-ray computed tomography (CT/CAT) scanning machines. The course also instructs those responsible for managing radiation safety programs at medical facilities.
Students in the "Medical X-ray Safety" course will gain a practical understanding of the safe use of radiation-emitting machines and will review state regulations pertaining to the installation, registration, and maintenance of X-ray machines. Instruction will assist students in developing and managing personnel radiation dose monitoring and training programs and will cover accreditation, audits, and inspections. The course also will discuss current topics in medical radiation safety, including safety culture and The Alliance for Radiation Safety in Pediatric Imaging's "Image Gently" campaign, which promotes radiation protection in the medical imaging of children.
The 2-day "Medical X-ray Safety" course will take place concurrently with the 5-day "Medical Radiation Safety Officer" course, which provides instruction beyond X-ray safety, to include management of programs using radioactive materials in diagnostic and therapeutic uses in patient care, security of radioactive materials, radiation detection instrumentation, radiation surveys, shipping and receipt of radioactive materials for medical facilities, medical radioactive waste management, and hospital emergency response.
"The Medical Radiation Safety Officer Course is both informative and interactive," wrote an employee of an international radiation therapy equipment company who participated in the February 2013 course. "I have taken lots of radiation safety courses over the years and would rate this course as one of the best around."
The "Medical X-ray Safety" and "Medical Radiation Safety Officer" courses will be held in Las Vegas and Gaithersburg, Md., starting on April 8, May 13, July 22, September 30, and November 4.
ABOUT US: Dade Moeller is a nationally recognized firm providing professional and technical services to federal, state, and commercial clients in support of nuclear, radiological, environmental, and worker safety operations. Its Dade Moeller Training Academy has successfully trained more than 11,200 professionals.