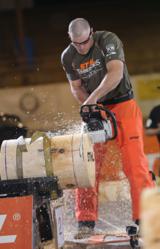 Virginia Beach, VA (PRWEB) March 28, 2013
The STIHL® TIMBERSPORTS® Series presented by Ram Trucks has just been nominated for a Cynopsis: Sports Media Award in the category of Brand Activation at Live Events. Fellow nominees include Anheuser-Busch' Bud Light Parties and Concerts for Super Bowl weekend; Golf Channel's Feherty Live from Ryder Cup; Intersport's Steal a Base Steal a Taco, NASCAR's Contenders Live; CSE's The Pantech Experience at Dew Tour and Weber-Shandwick's REFUEL: A New Audience and Usage Occasion for Chocolate Milk.
"The Cynopsis Sports Media Award nomination is a testament to the successful longevity of our lumberjack sports property, the STIHL TIMBERSPORTS Series," said Brad Sorgen, producer of the STIHL TIMBERSPORTS Series. "STIHL created this popular competition 28 years ago, and this year we are celebrating the 10th anniversary of the STIHL TIMBERSPORTS Collegiate Series."
STIHL, the number-one selling brand of gasoline-powered handheld outdoor power equipment in America*, created the STIHL® TIMBERSPORTS® Series, a professional lumberjack competition, in 1985 as a creative and innovative way to increase brand awareness and expose a more diverse audience to the STIHL brand and its products. Today, the STIHL TIMBERSPORTS Series, commonly known as the nation's premier lumberjack competition and original extreme sport, continues to reach millions through live competition events and subsequent airings on ESPNU and Outdoor Channel.
The awards are presented by one of the industry's most-read and trusted brands, Cynopsis: Sports, and were open to all networks, leagues, teams, universities, production companies, studios, producers, developers, marketing firms, brands and ad agencies. Winners will be announced at a special ceremony April 17 in New York City. Visit http://cynopsis.com/events/sports-awards for the complete list of nominees.
Get the latest information, stay up to date on news and competition and access behind-the-scenes photos and videos by joining the STIHL TIMBERSPORTS Series community online and on Facebook, Twitter and YouTube.
About STIHL Inc.
STIHL Inc. manufactures the world's largest selling brand of chain saws and produces a full line of powerful, lightweight, and versatile handheld outdoor power equipment for homeowners and professional users. STIHL products are sold through independent servicing power equipment retailers from coast to coast – not mass merchants. STIHL products sold through U.S. STIHL dealers are for distribution in the United States only. For more information or for the name of the closest STIHL retailer, call toll free 1-800-GO STIHL (1-800-467-8445) or visit STIHL's website at http://www.stihlusa.com.
*"Number one selling brand" is based on syndicated Irwin Broh Research (commercial landscapers) as well as independent consumer research of 2009-2011 U.S. sales and market share data for the gasoline-powered handheld outdoor power equipment category combined sales to consumers and commercial landscapers.
STIHL Inc. is the official underwriting sponsor of the STIHL® TIMBERSPORTS® Series. The series airs throughout the year on the Outdoor Channel and TUFF TV, and the STIHL® TIMBERSPORTS® Collegiate Series airs on ESPNU. The STIHL® TIMBERSPORTS® SERIES is the pinnacle event in lumberjack sports. Since 1985 the Series has grown to become the premier showcase of the decades old sport of lumberjacking with competitions held around the world.
The term TIMBERSPORTS® is a registered trademark owned by ANDREAS STIHL AG & Co. KG. and refers to the series of disciplines and competitions that are part of the STIHL® TIMBERSPORTS® Series. As such, it should not be used as a generic description of the overall sport of lumberjack sports. This trademark refers to all modifications of the term TIMBERSPORTS such as timber sports, or timbersport. The term TIMBERSPORTS should always appear in conjunction with "STIHL."