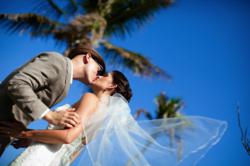 It is becoming increasingly more popular for couples to choose a destination wedding. Choosing a Florida wedding destination keeps it close to home and close to the heart.
Delray Beach, FL (PRWEB) March 28, 2013
Nothing like a Springtime wedding to end those Wintertime blues. What if circumstances, however, dictate the need to get married in the winter such as job obligations, school schedules, deployment, or family obligations? What if costs are higher or availability is limited? For many, Florida is the answer. Winter in Florida is comparable to Spring and even Summer, in most northern states. Kiss the Planner, based in Delray Beach, Florida provides three great reasons to choose their home town of Florida for a perfect destination wedding.
1. Weather . Unfortunately the blustery winds, falling snow and plummeting degrees throughout most of the US has many longing for the warmer days. Most everyone living in many parts of the globe desire a Springtime or Summertime wedding. The coveted Saturday nights during those seasons are typically booked far in advance by brides and grooms eager to bare some skin and let the sunshine in. But in Florida, warm weather knows no limits. The temperature stays about 70- 80 degrees on most days and is considered most lovely in the wintertime.
2. Proximity to honeymoon getaways and endless activities. It doesn't get any closer than staying right in Florida for the honeymoon. In Florida, being on vacation means business. Many hotels, resorts, guest houses and cottages have special pricing for newlyweds and wedding groups. A Florida wedding serves as a built in vacation for wedding guests. Popular honeymoon and guest activities include fishing trips, catamaran sailing and volleyball battles, among the endless supply of beach and water sports available. Home to the Everglades, Disney theme parks, Daytona International Speedway, and Kennedy Space Center Florida offers much more than just fun in the sun. With so many destinations in the Caribbean just a stone's throw away from Florida, honeymoon plans are easy too.
3. Fewer barriers in planning. Planning a destination wedding in another country can be a real challenge. There are international laws to be considered, language barriers, cultural obstacles and a great deal of miscommunication that can lead to costly and heartbreaking mistakes. Dealing with a venue and vendors that speak the same language and can be visited more easily can take a load of stress off of anyone planning what otherwise might be a complicated situation. Local wedding planners in the Florida area, as well as some travel agencies can assist in setting up wedding packages and besides helping to find the perfect ceremony and reception sites, can assist as well as all the other particulars such as vendor selection and obtaining the wedding license.
It is becoming more and more popular for couples to choose a destination wedding. Families and friends are finding it a fascinating idea and RSVP yes to taking their vacations while celebrating with loved ones. Choosing a wedding destination in one's own backyard keeps it close to home and close to the heart. After all, what could be more romantic than a Florida beach wedding at sunset.
Aviva Samuels of Kiss the Planner is available to speak with the media about wedding planning, destination weddings, wedding design trends, and more. The company offers an array of extraordinary wedding services, including destination event design, planning and coordination. For more information on Kiss the Planner or to contact Aviva Samuels, go to: http://kisstheplanner.com