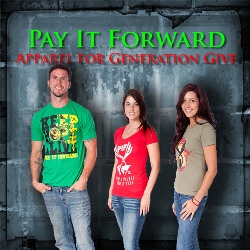 More shirts sold means more money raised, and these charities certainly deserve the support.
Columbus, OH (PRWEB) March 28, 2013
Pay It Forward, a company based in Ohio, has introduced a line of inspirational t-shirts that appeal to philanthropic millennials. The company donates 25% of every sale to help raise money for a number of different non-profit organizations that it represents. They hope to have a measurable social impact by partnering with the some of the most financially responsible organizations in the industry.
PIF Apparel has just announced that it will be offering its customers a limited time offer of 10% off two or more items (Promo code: PIFVIP1) from now until April 8th. Customers that choose to shop with PIF do not normally get the opportunity for additional savings. The company has priced its line of high-quality t-shirts to be competitive with similar style t-shirts offered through many popular chain stores. The sale is not an extravagant door buster but considering that the company gives away 25% of everything they sell to charity they understandably have much tighter margins to work with.
"We don't typically run sales, but we wanted to use this promotion to help drive some additional volume for our March and April charity partners. More shirts sold means more money raised, and these charities certainly deserve the support." States PIF founder Matthew Moses.
PIF's main goal is to educate its customers on how they can impact positive change more efficiently by choosing to support non-profits that are committed to higher standard of financial stewardship. By supporting companies that allocate more money to the cause that they represent the donors are able to impact the cause more effectively. All of the charities that PIF has partnered with to help support have an above average financial rating with the nation's largest independent non-profit evaluator, Charity Navigator.
On the surface, Pay It Forward's business model is similar to many other socially minded firms that have been showing up over the past few years. But once customers begin to scratch the surface they find a company that is committed to educating its customers, supporting the non-profits it represents, and doing something that no other socially minded firms are doing: giving the customer the choice of who to support. At any one point in time customers have the opportunity to support more than twelve different charities, all with varying causes and missions.
To take advantage of the sale visit PIF's online store at http://www.pifapparel.com and use promo code PIFVIP1 at checkout.