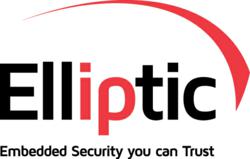 Ottawa, Ontario (PRWEB) March 28, 2013
Elliptic Technologies, a leading provider of complete embedded security and content protection solutions, today announced the company will present at the Ethernet Technology Summit 2013, April 2-4, in Santa Clara, California. The paper titled "Designing MACsec in" concerns the IEEE 802.1AE security standard (also known as MACsec) which protects data traversing Ethernet systems.
The paper will discuss MACsec in an era of very high throughput data connections, specifically 10/40/100 Gbps traffic. To achieve high throughput, MACsec must be implemented in hardware. Naturally, MACsec is intended to be implemented in a MAC, but sometimes this is not possible or desirable, as when MACsec functionality is added to existing systems. Fortunately, there are other options available to chip and system architects. The talk will explain these options, along with their respective advantages and drawbacks.
Jean-Pierre Thibault, Senior Hardware Architect at Elliptic Technologies, will present and join panelists for the Ethernet Security session #A-202 scheduled for April 4.
Elliptic offers complete and highly tuned embedded security solutions built on a combination of software and semiconductor hardware engines that facilitate semiconductor and device manufacturers to shorten their time to market and provide robust security solutions. Elliptic's broad portfolio of security engines includes random number generators, a wide variety of cryptographic cores, public key accelerators and protocol processors for LTE, IPsec, TLS and MACsec. Software solutions include highly integrated Digital Rights Management (DRM) and content protection technologies, such as DTCP-IP and HDCP 2.2, built for trusted execution environments that integrate seamlessly with ARM TrustZone® technologies.
About Ethernet Technology Summit
The Ethernet Technology Summit focuses on the use of Ethernet throughout the networking space. This includes the emergence of 10-Gigabit Ethernet as a key LAN technology on the desktop and in data centers. It also covers the emerging standards for 40-Gigabit and 100-Gigabit Ethernet. It also includes the use of Ethernet as a carrier backbone and transport method, as well as in storage applications and in virtualized data centers and clouds. Other topics of interest include design and development, fabrics, chipsets and components, security, delay and packet loss, convergence, big data, and market research. More information on the Ethernet Technology Summit can be found at http://www.ethernetsummit.com.
About Elliptic Technologies
Elliptic Technologies is a leading provider of embedded security hardware cores and software to SoC manufacturers, OEMs, service and content providers. Elliptic's highly-integrated solutions help secure products in markets such as mobile, networking, home entertainment, smart grid and automotive. Elliptic's hardware security cores enable designers to efficiently balance power, performance and silicon area and cover a wide variety of cryptographic cores, public key accelerators, true random generators and protocol processors. Elliptic is leading the world in DRM and content protection solutions for downloading and sharing premium content between multiple devices, including DTCP-IP and HDCP SDKs built for "trusted execution environments" used in consumer electronics. The company has a global customer base and sales channels. To learn more about how Elliptic's security solutions enable the most efficient silicon design and highest levels of security for some of the world's most popular products, please visit http://www.elliptictech.com.