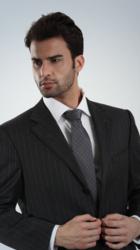 Nothing is more exquisite than a man wearing his elegant silk tie;
(PRWEB) March 29, 2013
Nothing is more exquisite than a man wearing his elegant silk tie; and for customers of the popular online store Mitchell-Roberts.com, being able to conveniently view the finest neckwear available on the internet today in a one-stop online tie shop, is a service like no other.
Today, not only will individual customers be the only ones to appreciate their extensive collection of quality ties; those who own a menswear boutique or a custom clothier who wants to resell beautiful ties sold exclusively at their online store can now order wholesale ties as well.
From Paisley ties to luxurious jacquard woven silk ties, theirs has the most complete collection of men's luxury neckwear anyone can find on the internet today. They take pride in their 100% fine jacquard woven silk ties, expertly made and crafted unto perfection. In fact, according to many fashion magazines and websites this year, jacquard is renewing its popularity, not only in ties but in women's clothing as well. One of the latest fashion statements using jacquard comes no other than the first lady:
"It's all about the first family today, folks! The photogenic fam arrived at St. John's Church, hours before President Obama is sworn in for his second term in Office. For the occasion, Malia and Sasha were styled in vibrant coats by J.Crew and Kate Spade respectively, while our First Lady opted for a custom designed patterned silk jacquard blue coat and dress by Thom Browne." – *Article from FashionBombDaily.com, 'First Lady Michelle Obama Wears Thom Browne Patterned Coat and Dress to 2013 Inauguration of President Barack Obama'
With the launching of their new silk ties wholesale service, they have also upgraded their website by adding a new page where customers can inquire about their whole sale price. This new feature will allow business owners and department store representatives to contact them directly and receive a quotation. Customers who will purchase a minimum of 50 neckties will be considered a wholesale customer and will be able to take advantage of their special wholesale rates.
As part of their new and upgraded services, they have also added a site consultant feature where customers who need instant feedback can chat with a live agent to inquire either about individual or bulk purchases. With these new features and improved customer service, Mitchell-Roberts.com is no doubt the best online tie shop to date.
For more information about their new wholesale services, visit their website today at http://www.mitchell-roberts.com or contact their representative directly for further details.
About Mitchell-Roberts.com
They are popular online tie shop with a complete collection of the best luxury men's ties for retail and wholesale. Expertly made from 100% fine jacquard woven silk, their men's neckwear is sought after by fashionable men all over the world.
News source:
*http://fashionbombdaily.com/2013/01/21/hot-or-hmm-first-lady-michelle-obamas-inauguration-thom-browne-2013-dress/