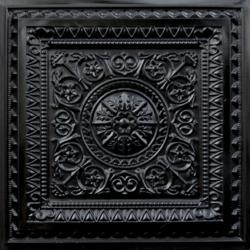 These guys are 'the bomb'. We went online, we found what we wanted, they had it in stock and delivered it the next day by noon. What more do you want from any company? Proprietor Abe "Ming" Dababneh says
Margate, Florida (PRWEB) March 28, 2013
When Smoke Inn-Casa de Montecristo premium cigar shops needed a rush order to finish their newest location in Boynton Beach in time for their grand opening, they turned immediately to DecorativeCeilingTiles.net (DCT). Not only were they able to find what they needed, but DCT was able to deliver the tiles in person the next day.
Smoke Inn chose the beautiful intricately detailed and three-dimensional faux tin 223 La Scala ceiling tile in midnight black.
Proprietor Abe "Ming" Dababneh says, "These guys are 'the bomb'. We went online, we found what we wanted, they had it in stock and delivered it the next day by noon. What more do you want from any company?" Abe's video testimonial and a preview of the new location can be seen on YouTube.
The newest Smoke Inn shop is located at 1030 Gateway Blvd., Boynton Beach, FL 33426. A pre-opening reception is set for Tuesday evening, March 27, 2013, with the Grand Opening scheduled for Thursday, March 29, 2013. For more information, call 561-721-2383 or visit the website.
With this opening, Smoke Inn will grow to eleven retail locations throughout South Florida including West Palm Beach, Jupiter, Port St. Lucie, and Vero Beach.
For information on a particular states' age and delivery availability, customers can visit the website or call toll-free 888-SMOKES-1 (888-766-5371). Gift cards are available.
More photos and information about Decorative Ceiling Tile products can be located on the DCT website and the DCT Facebook page, as well as on the DCT Houzz page.
Decorative Ceiling Tiles' products have been prominently featured in the television broadcast sets of the Emmy® Awards and the American Country Awards. Other creative uses for these decorative tiles include photography backdrops and floors, as well as headboards for beds