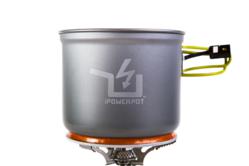 Initial response to the PowerPot has been overwhelming. We're seeing both big and little shops interested in stocking and selling it online
Salt Lake City, UT (PRWEB) March 28, 2013
As backpackers, campers and travelers alike gear up for this year's camping season, a closer look at some of this year's hottest new products is in order. A lot of the newest gear provides age-old functionality with a new twist: rechargeable batteries. Many manufacturers are re-issuing electric headlamps, GPS units, and water purifiers with lithium-ion batteries which provide longer operational life and the ability to recharge. The move has allowed many outdoor enthusiasts to leave huge packs of AA batteries at home and paved the way for a new generation of portable charging systems.
The PowerPot is one such portable charging device. It functions by converting heat into electricity with thermoelectric power generation modules--the same technology that powers deep-space exploration projects like the Curiosity Mars Rover. Thermoelectric power generation is a solid-state technology that generates electricity when exposed to heat. Because there are no moving parts, thermoelectric generators enjoy a long shelf-life and provide thousands of hours of power generation.
After a successful introduction on Kickstarter last camping season, the PowerPot has entered the marketplace and is popping up in online stores all over the world. Interested buyers can find it on big sites like Eastern Mountain Sports as well as more niche sites like gearupcenter.com, CampSaver.com and in Europe on worldofoutdoor.dk.
Caleb Light, Director of Sales at the PowerPot, says the company has closed more than a dozen online retailers, and the list gets bigger every week. "Initial response to the PowerPot has been overwhelming. We're seeing both big and little shops interested in stocking and selling it online," Light said.
Look for the PowerPot at an online retailer near you! To learn more about the PowerPot and the technology that makes it possible, check out http://www.thepowerpot.com.