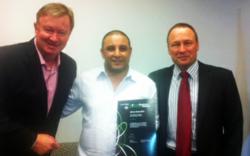 (PRWEB) March 29, 2013
Robert Adelman, owner and director of local IT business ITtelligent is proud to announce that he and his team have been awarded winners of the March 2013 Momentum/3AW Small Business Award.
The Momentum/3AW award is designed to aid further development and reward the hard work of small businesses.
ITtelligent is an IT business in Richmond which focusses on proactive IT support 24/7 designed for organisations from as little as 5 computers up to 250 computers.
Robert says: "At ITtelligent we go above and beyond to provide top quality IT services as well as meet our customers' needs and expectations. We are extremely thankful to all our much valued clients, with whom we have established successful and great working relationships with, which have made our success possible."
ITtelligent proactively monitors its clients IT system infrastructure 24/7, and prevents problems before they impact their bottom line utilising the company's own personally designed SmartCare system.
The Smartcare system provides the entire spectrum of Windows system management tasks, which is handled by industry experts, either on-site or remotely.
ITtelligent has grown enormously since its humble beginnings in 2006 where owner and director Robert Adelman launched ITtelligent from his own lounge room. These days ITtelligent is situated in the heart of Richmond in a freshly renovated office designed by a renowned interior designer and boasts an impressive list of clientele ranging from one of Australia's leading airlines to international accounting and law firms, local medical and health practices, retail, hospitality, baby care, timber and non for profit organisations.
Robert began ITteliigent after he recognised a need in the market for a customer service focussed IT company that outsourced IT without locking its clients into costly contracts and could provide a cost effective fixed fee model rather than the typical ad-hoc packages.
ITtelligent are thrilled to have the opportunity to be interviewed this Wednesday by Denis Walter and to be presented this award by the Minister for Small Business, Louise Asher live on 3AW.
Robert and his team are determined to provide the best possible service in the IT industry and this is further demonstrated by his clients testimonials provided in the companys website http://www.ittelligent.com.au.
For more information or to arrange an interview with Director of ITtelligent, Robert Adelman, please contact Katie Garrett, on 0413 917 554 or katie.garrett@ittelligent.com.au
For further information about the Momentum/3AW Small Business Award visit http://www.3aw.com.au/smallbusinesssuccess