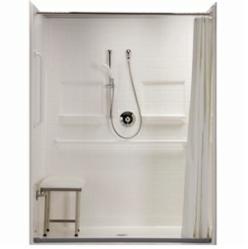 These specialty internal heaters can help keep walk in bathtubs warm while they fill and drain.
New York, NY (PRWEB) March 28, 2013
This unique heating element feature is now standard on multiple walk in bathtubs that are provided by Aging Safely. The internal heater is designed to slightly increase the surface temperature of the walk in tub. According to the company the heating units are not currently available for handicap shower systems.
Granted seniors are rapidly discovering the many benefits of owning of a step in tub, there are also downsides that customers should be aware of before making this type of investment. Since these specialty bathtubs are designed to potentially enhance safety and make entering the bathtub easier and less difficult; the bather must be inside of the bathtub with door shut and sealed before filling the tub.
The downside is, typically the person taking the bath will have to sit there undressed while the step in tub fills with water. For some bathers this can be somewhat unpleasant, uncomfortable and cold. In addition, drain time can be a critical component to this as well and bathers that have walk in bathtubs with longer drain times may be more prone to getting cold.
Fortunately, Aging Safely will now be offering these unique walk in tubs that have heating elements designed to take the chill out while waiting for the water to fill. With Aging in place technologies advancing more and more every day, customers will be sure to find products to assist along the journey with the help of Aging Safely bathroom products.
These specially designed internal heaters are hidden behind and below the walk in tubs, so it isn't visible without removing service panels. This unique heating element isn't found on standard walk in bathtubs and is factory installed with excellent manufacturer warranties. Bathers will be able to have the pleasure of being warmed by the element as the senior bathtub fills and drains.
Aging Safely Walk In Bathtubs is specialty bathtub distributor that supplies senior bathtubs, handicap shower stalls and safety grab bars to all fifty states and Canada. They do provide walk in tubs to the general public, but maintain relationships with assisted living facilities, nursing homes and other aging in place organizations that cater to the baby boomers and the elderly.
According to Aging Safely, they also have numerous walk in bathtubs that are ideal for people of all ages that may have a physical or mental disability that may impede entering a bathtub safely. The company also specializes in transfer bathtubs, more commonly referred to as a wheelchair accessible bathtub. Children that are wheelchair bound may also potentially benefit from a transfer bathtub or handicap shower stall. Additionally, the company offers no obligation consultations and is available to provide customers with detailed information on several of the leading products.
Contact Information:
Zach Wennstedt
info(at)agingsafelybaths(dot)com
1-888-779-BATH(2284)