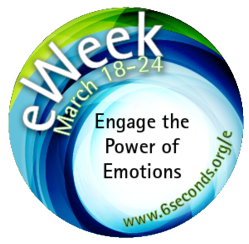 With over 9,495 webinar signups, eWeek was the largest emotional intelligence conference to date.
San Francisco, California (PRWEB) March 29, 2013
The virtual conference served as the launch of the NexusEQ Conference, Harvard University, June 2013, featuring neuroscientists, authors, and experts on emotion, learning, and business. The program included 22 webinars with 9,495 session signups, making it the largest emotional intelligence conference to date (slightly exceeding the 24EQ virtual conference in 2012). Signups included participants in business, education, health and government & nongovernment organizations from around the world.
The festival ran March 18-24, and the free webinars remain online through the end of the month. The eWeek Emotional Intelligence Festival was a blend of current science made practical for business and education.
Based on responses from participants, the week's top rated webinars were:

Tools for Knowing Yourself (Jenny Wiley)
Inspiring Leaders by Coaching EI (Richard Boyatzis)
Integrating Brain & Body (Sue Langley)
eWeek included many gifts of videos, daily podcasts by Daniel Goleman, and several eBooks all provided free. Popular resources included:

At the Heart of Leadership: 2375 (became Amazon #1 free book in Business>Management)
E.Q. Librium by Yvette Bethel: 537
"Rebuilding Trust" eBook by Lea Brovedani: 347 copies
What Holding Back Your True Potential by Valencia Ray: 268
Plus over 1000 downloads of various articles created for the festival.
The next "stage" of the program will be the NexusEQ Emotional Intelligence Conference at Harvard University, June 24-26 with some 300 in-person participants and 10,000 virtual participants. Speakers include top neuroscientists, emotions researchers, and practitioners in business and education. The conference includes official international delegations for 12 countries and/or regions.
The purpose of eWeek and the NexusEQ Conference is to spark positive change – using the science and practice of emotional intelligence to improve prosperity and wellbeing around the world. Both events are part of Six Seconds - The Emotional Intelligence Network. Six Seconds is a nonprofit organization with offices in 10 countries. It is the largest emotional intelligence organization in the world with top experts, an extensive library of tools, and a host of free resources for putting emotional intelligence into action.