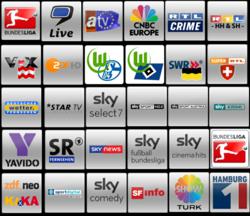 Touchsquid Favorite is a very popular feature. You can assign up to 144 favorites on 6 screens of 24 each and choose from hundreds of included high quality graphics.
(PRWEB) March 29, 2013
Touchsquid announces an enhanced German edition of Remote app for Samsung which includes German language commands and a library of over 800 favorite German channel icons. These channel icons include music channels, sports channels, movie channels, live streaming internet channels, weather channels, and much more.
The Touchsquid remote app works with certain Android tablets that have built-in infrared IR blasters. The Samsung Galaxy Note 10.1 has a built in infrared IR blaster along with four other Samsung products: Samsung Galaxy Tab Plus, Samsung Galaxy Tab 2 7, Samsung Galaxy Tab 2 10 and the Samsung Galaxy Note 10.1. Used with these tablets, the TouchSquid app requires no other hardware.
The Samsung Galaxy Note 10.1 began selling in the international market around August of 2012 and paved the way for the overseas release of the Touchsquid remote app for Samsung.
The Touchsquid app comes in two versions: the Home and the PRO. The home version of the app is limited to four devices in a room. The PRO version handles 10 devices in a single room profile. The number of profiles is unlimited.
The Touchsquid PRO further differs in that it provides comprehensive user definable macros. A macro is a sequence of commands which can perform complex tasks. Macros can be attached to any command including user defined buttons.
The Touchsquid application comes with a database of over 200,000 devices. It can command a wide range of home theater components including lighting, projection systems, monitors, amplifiers, cable and satellite boxes, game consoles and media players of all types.
The Touchsquid Pro Remote Control App for Samsung is available on Google Play and the Amazon App Store. A demo version is available for free download.
About Touchsquid Technology Inc.
Located in Canada. Its flagship product is the TouchSquid remote control app. There are several versions including remote apps for Samsung Tab, for Sony S and Xperia tablets, and for generic tablets when used in combination with an external IR blaster device.