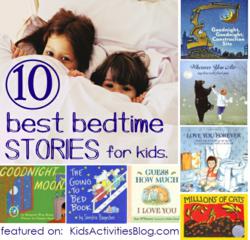 Great bedtime stories provide memorable cuddle time together with the kids.
Dallas, Texas (PRWEB) March 29, 2013
Looking for favorite bedtime stories? Look no further. Kids Activities Blog has released the top 10 best bedtime stories for toddlers. The list is kid tested and Mom approved and will be read over and over, guaranteed.
Among the top ten are Love You Forever written by Robert Munsch, a perfect story to read while snuggling with the kids before bedtime. Guess How Much I Love You written by Sam McBratney is another love story about a bunny family and how their love reaches the moon. The Going To Bed Book by Sandra Boynton is a cute board book about silly characters who go through their bedtime routine. Toddlers can easily relate to that story.
Harold And The Purple Crayon written by Crockett Johnson tells the story about a boy named Harold who goes on an adventure with his purple crayon instead of being asleep. The story will delight the crayon loving kids hearts.
Millions of Cats written by Wanda Gag makes also the top 10 list. This book tells about a couple who go out to get a cat and end up with millions of cats. Drummer Hoff written by Barbara Emberly is based on a folk tale about a variety of characters who work together to fire a cannon. The illustrations and rhymes are darling.
The Real Story Of Stone Soup written by Ying Chang Compestine is based on a Chinese version of the original Stone Soup book. This book will hold older and younger kids attentions.
For the complete list of bedtime favorites, check out Kids Activities Blog this week. Come get inspired to get the kiddos reading some fun and exciting bedtime books.
About Kids Activities Blog
Kids Activities Blog is a website created by two moms (who collectively have 9 children), Rachel Miller and Holly Homer from June Cleaver Nirvana. It is their daily goal to inspire parents and teachers to play with kids. This interactive website publishes simple things to do with kids twice a day. Kids Activities Blog is a great tool for moms and teachers to find kid-friendly activities that create memories and sneak learning into the fun.