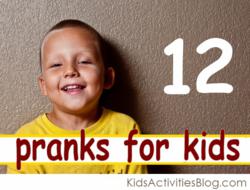 Start April Fools morning with some silly out-of-bed pranks.
Dallas, Texas (PRWEB) March 31, 2013
Make time for silly moments and laughter this year. Over 12 perfect pranks for kids and totally silly April Fools pranks have been released on Kids Activities Blog. Making fun memories for the kids that they can talk about for years to come is also what life is all about.
Start April morning by preparing silly get-out-of-bed pranks. How about letting the kids wake up in the wrong beds? If the kiddos are deep sleepers, carry them in the middle of the night into different beds. Or how about setting up a balloon drop, confetti drop, or if you dare to clean up the mess, a water drop, on top of the door frame of their bedroom or bath room?
Ouch! Their feet grew overnight. Simply crumple up toilet paper and stuff it into the tip of their shoes before they put them on. Want to include the neighbors in the prank? Put up a For Sale sign in the yard or the neighbors yard this April.
Other fun pranks include gluing all sort of things on the table, pavement or walls. The classic of all is gluing a quarter on the sidewalk and letting the kids watch the people trying to pick up the coin.
Silly food pranks include putting toothpaste inside the Oreo cookie, making giant Ostrich eggs for breakfast, serving colorful milk for breakfast or turning the breakfast juice into jello or some frozen mass.
The list is endless. For detailed instructions and to get additional ideas, check out Kids Activities Blog. Moms are blogging in numbers about their prank ideas. Come get silly this April to create fun family moments that will be remembered for years to come.
About Kids Activities Blog
Kids Activities Blog is a website created by two moms (who collectively have 9 children), Rachel Miller and Holly Homer from June Cleaver Nirvana. It is their daily goal to inspire parents and teachers to play with kids. This interactive website publishes simple things to do with kids twice a day. Kids Activities Blog is a great tool for moms and teachers to find kid-friendly activities that create memories and sneak learning into the fun.