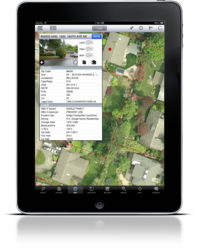 Redmond, WA (PRWEB) March 28, 2013
Mobise, developer of leading edge mobile and web based solutions for business and government, proposes 5 key considerations for appraisal mobile applications.
Smartphones and tablets have revolutionized the way we work. They allow for increased flexibility, productivity and access to information anywhere at any time.
Public and private sectors are looking for powerful tools for their field appraisers to enhance their effectiveness. Most of the leading CAMA (computer-aided mass appraisal) vendors provide a mobile solution based on tablet-PC.
A mobile appraisal solution must be able to provide integration and an ease of use that makes it powerful for field work.
Five general considerations for a mobile appraisal solution include:

Types of tablets
Key functionalities to expect
Integration with desktop systems
Managing security
Local deployment vs. cloud deployment
Types of tablets for field appraisers
New tablets appear on the market every day. You can organize tablets into 4 different groups:
The Tablet-PC – this group contains (laptop) PCs that have been packaged as tablets. They tend to be heaviest with the shortest battery life.
Apple's iPad –currently has the most market share, is one of the most powerful with a long lasting battery. The iPad mini offers more choices and price options.
Microsoft Surface –Although its OS is Windows 8 RT, the Surface's Windows is not compatible with existing Windows applications. New software must be written specifically for the Surface, and this will take time.
Android Tablets – many exist but have low market traction, due to the fragmentation by multiple OS versions and hardware manufacturers. While cheaper, they are limited in performance, security or screen quality.
The first decision is to determine which mobile hardware manufacturer(s) or operating system(s) your CAMA or desktop appraisal application is compatible with. This requires time, careful checking and field testing.
Accessories and Maintenance
Accessories can protect the tablet from the rain, accidental drops, or allow it to be easily carried and handled. Also, you need to determine whether the replacement cost of the device is covered by your maintenance agreement. Apple provides an Apple Care contract for $99/year per device, which will exchange an iPad if it becomes unusable for any reason.
Integrated Accessories
Integrated accessories include a built-in GPS or a built-in camera. While not required for a mobile appraisal solution, a cellular connection is useful for field workers to check their email, or to synchronize changes in their data. You need to balance the cost of a data cellular connection vs. the benefits/convenience of having it.
Software Availability
Does your CAMA or appraisal software vendor provide a mobile version of your desktop software that is easy and intuitive to understand and work with in the field? Do you have access to email and Microsoft Office type products?
IT Resources
You should also consider your IT department's skill level and availability. If you don't have a large IT department, tablets that are self-managed (i.e. iPad or Android) are a better choice.
Corporate Policies
You will also need to understand the policies of your organization for installing new software, including what products are allowed and who pays for them. You need to clearly communicate your policies regarding software on the tablet.
Key functionalities to expect
Connectivity
Some vendors provide a mobile solution, as long as you are constantly connected via 3G/4G or Wi-Fi. Do you have enough cellular coverage in your area?
If the mobile solution can work in a disconnected mode, assess how the data is stored locally. If it's based on a check-in and check-out system, records are "locked" and others cannot make changes. Field appraisers need to remain productive in both connected and disconnected modes.
GIS, Photo and Sketch Integration
Integration with GIS data is vital as appraisers can explore many layers of GIS data and get an intelligent view of properties for decision making on the go. A seamless integration between the property data and the map views should be as simple as a finger tap.
An integrated solution that automatically adds new photos or sketches to a property saves time and increases accuracy.
Flexibility
Can you customize the user interface screens? Can you define some of the searches? What about the validation of data when capturing new information?
Integration with desktop appraisal system
The goal for appraisers is seamless integration between their desktop and mobile applications. Data should be synchronized automatically from both sources or driven by the appraiser, and this includes, notes, photos, sketches etc.
Managing security
While no one can guarantee 100% security, it is important to apply the different layers of security.
You want to ensure that only authorized users make changes to the data. Using Active Directory credentials is more convenient for end users and the IT team since they only manage one set of credentials.
Being able to setup a code on the device that is activated for a certain timeframe is also convenient for the users. A 4 digit PIN can be added here for another level of security. Are changes shown on an audit trail?
Tablets are updated over Wi-Fi and secure data lines are necessary as well as encrypted data storage. A central management tool is vital for tracking, remote wipe in case of loss and pushing updates.
Local deployment vs. cloud deployment
Deploying a mobile solution internally requires coordination with IT who will help you with ports in the external firewall and a separate database to manage synchronization.
If you don't have access to an IT team you could consider whether the mobile solution can be operated in a public cloud or in a private cloud. Consider the requirements for synchronization as well as the security of the cloud including how often it is backed up.
In summary, organizations have many factors to consider when selecting a mobile appraisal solution. To learn more, please contact us at info(at)mobise(dot)com.
Mobise develops leading edge, fully integrated mobile applications for business and government, primarily focused on the iPad and iPhone platform. Their experience comes from over 20 years in the software IT industry, and includes complex back-end systems leveraging cloud, web and mobile technologies that integrate with various lines of business. http://www.mobise.com