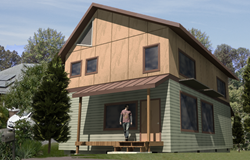 We're all really excited about the initial results," said Hammer & Hand project lead Dan Whitmore. "We found a couple of pinhole leaks but that's not bad for the first time out. Now we're set and we're ready to rock-and-roll on the exterior."
Seattle, WA (PRWEB) March 29, 2013
Home builder and contractor Hammer & Hand announced today the results of its initial blower door test at the Ballard Passive House. The still-under-construction home clocked in at an impressively airtight 0.29 ACH50 (0.29 air changes at 50 pascals of pressure) on its first test, easily beating the maximum value allowed by the Passive House standard of 0.6 ACH50.
"We're all really excited about the initial results," said Hammer & Hand project lead Dan Whitmore. "We found a couple of pinhole leaks but that's not bad for the first time out. Now we're set and we're ready to rock-and-roll on the exterior."
With heating energy demand reductions of 90% coupled with superior air quality, thermal comfort, and building durability, it is easy to see the appeal of Passive House construction. But when the Passive House building standard was introduced here from Germany, some wondered if North American builders were up to the task of this new level of high performance building.
"There was a lot of skepticism whether or not North American builders could achieve the required air tightness for Passive House certification," said Passive House consultant Skylar Swinford of Hammer & Hand. "But with a solid plan and attention to details, achieving the minimum standard or better is completely doable."
The initial blower door tests results of the Ballard Passive House support this claim and suggest that Passive House construction is a practical way for the North American industry to build sustainable and comfortable new homes.
Construction at the Ballard Passive House continues to progress, and the latest developments will be on view to the public at the 3rd annual Northwest Green Building Tour April 27th, 2013. The tour runs from 11am-5pm and is a free event.
Learn more about the Ballard Passive House by visiting the project website at http://www.hammerandhand.com/ballard-passive-house.
About Hammer & Hand
Hammer & Hand is dedicated to stewardship of the built environment through craft and science, everything from home remodeling to deep energy retrofits to modernist Passive House building.
Hammer And Hand – Portland: 1020 Southeast Harrison Street, Portland, OR 97214-4709 | (503) 232-2447 | http://hammerandhand.com
Hammer And Hand – Seattle: 1501 E Madison St #250, Seattle, WA 98122 | (206) 397-0558 | http://hammerandhand.com/seattle