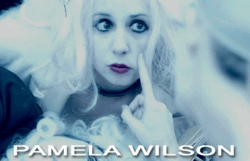 These films offer an intimate glimpse into the artist's world while revealing the inspiration, process, and philosophy behind their creativity," EVOKE director Kathrine Erickson, said.
SANTA FE, NM (PRWEB) March 31, 2013
EVOKE Contemporary, known for compelling and provocative contemporary art with a twist is about to shake up the art world with a whole new way of experiencing visual arts through film. Artist Pamela Wilson, cinematographer Carlo Zanella and Evoke have collaborated to create a dynamic film that immerses viewers into the mind of the artist.
Southern California artist Pamela Wilson's narrative paintings often evoke the surreal world of Federico Fellini. Zanella has created a setting for her interview that is as inventive as her paintings.
The production of the film included 14 models, a five-person production crew, and the artist. The location was in California on the picturesque private estate of Charles Schulz, the American cartoonist, best known for the comic strip Peanuts. The concept of the film was to create a Felliniesque mood bringing to life the characters from Pamela Wilson's dreams, which are the subjects of her mysterious and sometimes dark paintings.
This is the beginning of a captivating series of artist profile films that will change the way we look at art.
John O'Hern
Santa Fe Editor
American Art Collector