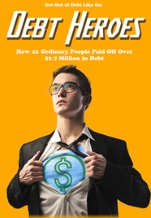 Don't beat yourself up because a popular 12-step debt pay-off plan didn't work for you
Kansas City, MO (PRWEB) March 28, 2013
There's a new superhero in town and it's hitting the virtual bookshelves with a free promotion on Amazon.com. Those who need to be rescued from troublesome debt can now turn to the Debt Heroes: How 21 Ordinary People Paid Off Over $1.7 Million in Debt Kindle book. This book provides refuge for those who feel alone being in debt, presenting tips to help readers get out of debt. This book offers up the profiles of successful debt combating heroes, in order to inspire readers to beat their own debt villains. Throughout the week (from Sunday, March 24 through Thursday, March 28) this Kindle book will be available for free on Amazon.com.
Ben Edwards of MoneySmartLife.com and Jeff Rose of The Debt Movement created this book with the purpose of letting readers know they are not alone. They do so by highlighting the fact that even successful personal finance authors like Lynnette Khalfani-Cox
(Ask the Money Coach) and Mary Hunt (Debt-Proof Living) once struggled with massive debt.
"We all have weaknesses that make it easy to get into debt and hard to get out," said Edwards, Debt Heroes co-author. "Don't beat yourself up because a popular 12-step debt pay-off plan didn't work for you," he added.
This book reveals the personal strengths each Debt Hero used to collectively pay off over $1.7 million dollars in debt. While flipping pages, readers will find profiles of these Debt Heroes ranging from JD Roth (Get Rich Slowly), Carrie Rocha (Pocket Your Dollars), Carrie Smith (Careful Cents), David Weliver (Money Under 30), Brad Chaffee (Enemy of Debt), Leo Baubauta
(zenhabits) and many more, totaling 21.
In addition to the goal of inspiring readers, Debt Heroes aims to be the go-to resource in walking those in the fight against debt through the stages of their own personal journey to pay off debt. Once completed, readers should have a clear view of why they got into debt, examples of how others got out of large amounts of debt, a list of tools to pay off what is owed, and the discovery of their own super power on how to live debt-free.
The authors have dedicated their own lives to fighting the good fight against debt. In addition to hunting down today's Debt Heroes, Edwards enlightens readers daily on personal finance topics such as paying off debt, choosing the best credit cards, and saving money on his site Money Smart Life. His passion for finance started at the young age of 12 years old, after he discovered the world of Nintendo and the money that needed to be saved in order to buy his own. From there, his passion blossomed into funding an IRA, saving for his honeymoon and a down payment on a home.
Jeff Rose, co-author and founder of Good Financial Cents, has dedicated his life to eradicating debt so much so, that he has spearheaded The Debt Movement. In partnership with ReadyForZero, as well as hundreds of financial bloggers they are working to pay down $10 million of debt in 90 days. Since February 2013 they have already collectively paid off $318,759, through scholarships, education, community, and hard work, they are putting a huge dent in the pile of consumer debt in America.
For additional details on Debt Heroes and to purchase the free Kindle book, please visit: http://www.amazon.com/Get-Debt-Like-Heroes-ebook/dp/B00BLLT79W.
About Debt Heroes
Debt Heroes is a book that was launched to kickoff a collective effort to help people around the U.S. payoff a total of $10 million in debt, known as The Debt Movement. Written by Ben Edwards (MoneySmartLife.com) and Jeff Rose (Good Financial Cents), they set out to find those who have won a major battle with debt and were willing to share their story with others in an inspirational and/or educational way. Debt Heroes looks at getting rid of debt as a process. The book looks at what to experience in each stage of the journey to eradicate debt and how you can move from one to the next. Check out http://moneysmartlife.com/get-out-of-debt-like-a-debt-hero/, for more details on Debt Heroes.
About The Debt Movement
Paying off debt is not easy and The Debt Movement realizes this. This community was created to band together with one common goal: annihilating debt and becoming financially free. This movement not only exists with the goal of paying down $10 million of debt in 90 days, it allows participants the tools and resources needed to succeed. For more details please visit: http://debtmovement.com/
PRESS CONTACT:
Samantha Bryant | Samantha(at)samanthabryantpr(dot)com, 720-443-1527