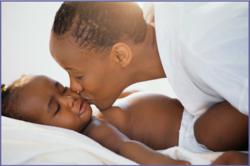 "Each day of our lives we make deposits in the memory banks of our children" ~ Charles R. Swindoll, The Strong Family
Charlotte, N.C. (PRWEB) March 30, 2013
"Each day of our lives we make deposits in the memory banks of our children." ~Charles R. Swindoll, The Strong Family
We know kids don't always listen. But, did you realize that kids are always watching? And, you can use this fact to help increase your child's happiness by remembering that what you do (and what they see) is often more important than what you say (and what they hear).
Kids especially notice when a parent chooses a person or activity over them. As they grow and learn about the world around them, children naturally assign meaning to what they see. When you're too busy for them, they can easily begin to feel that they're not worthy of being one of your priorities.
As a parent, one of the greatest responsibilities you have is to ensure your children feel loved. To help your child feel secure, loved, and happy, try these Six Essential Steps:
1. Let them know you're genuinely excited to see them. When you see them for the first time in the morning and after school, ensure they know just how happy you are to see them. Use their name (everybody likes that) and show genuine pleasure.
2. Make sure they know that your work is less important than they are. Most kids are constantly being put off because of work or some other task. Take care of the kids first and schedule work around them. This technique shows them how important they are.
3. Teach your kids at home. Don't assume that everything they need to learn they are learning sufficiently outside the home. When it comes to school, just like every other profession, some teachers simply aren't very good. Help your child with their schoolwork and teach them the things you want them to know as they become young adults. If you don't do it, who else will?
4. Model good behavior. Children assume that the appropriate way to handle a situation is the same way their parents handle it. Are you behaving like a strong, patient, persistent person? How successful and happy will your children be if they handle challenges the same way that you do? Remember, they're always watching and copying.
5. Let the kids make a few of the rules around the house. People naturally resist and rebel when they feel like they don't have any control. It can be something small. Perhaps they can choose which days to clean their room each week. Or they can choose what's for dinner (from choices that you give them). Simple things like this really help.
6. Limit the amount of media / technology exposure. It's easy to let the TV entertain the kids when you're busy or frustrated. But most parents instinctively know that their kids watch too much TV. As kids get older, cell phones, the Internet, and iPads become an issue. Technology is hypnotic, but it doesn't make people happy.
Teach them everything you think they need to know and be a good example. Ensure they feel special and loved. Simply doing your very best is a great place to start.
Most importantly, have fun with your kids and enjoy their laughter! Make great memories with your kids – get outside with them for a fun game of tag together or enjoy a "tickle fight" just before bedtime.
Are you and your child going through a difficult time? Hypnosis and hypnosis for children might be especially beneficial. And, now through May 15, SouthPark Hypnosis is offering a special children's package, four sessions for just $399.
If you'd like to learn more about how hypnosis can help, please contact Verena Martin at (704) 550-1201 or email verena(at)southparkhypnosis(dot)com.
SouthPark Hypnosis Center LLC is conveniently located in the greater South Park area in Charlotte, N.C. Verena Martin, consulting hypnotist and SouthPark Hypnosis' founder, provides hypnosis services to adults and children for a variety of issues. Areas of specialties include: anxiety and stress management, fears and phobias, and hypnosis for children. SouthPark Hypnosis does not offer medical nor psychological services, but strictly hypnosis and education for self-improvement and personal development.
Sign up for Martin's blog at http://www.SouthParkHypnosis.com, and stay connected with SouthPark Hypnosis via Twitter, @SPHypnosis; Facebook, http://www.facebook.com/southparkhypnosis; Pinterest, http://pinterest.com/sphypnosis; and LinkedIn, http://www.linkedin.com/in/southparkhypnosis.