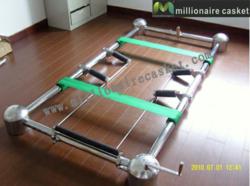 (PRWEB) March 28, 2013
Recently, MillionaireCasket.com, a well-known casket brand, has added a casket lowering device its product line. Moreover, the company will launch its another new product, casket stretcher, to enrich its product line next week.
The lowering device from MillionaireCasket.com features an adjustable braking system giving users added control over the lowering speed. New, lightweight material in the side rails reduces the overall unit weight by 26 lbs. As a medium-grade device, it is capable of bearing loads up to 800 pounds. It allows a smooth and silent lowering action without the need for any external power supply. The lowering device is used for lowering a coffin or casket into the grave, and is placed over an open grave.
"Stylish, silent, and sturdily built, this casket lowering device comes in a range of finishes, which will add extra polish and professionalism to your ceremonies. It is the most durable lowering device on the market and is designed for a two-person setup. It is an ideal choice for lowering a casket, says, Zoe Wong, a spokesman for the company. "Moreover, it carries a 1-year warranty which covers full parts, labor and shipping expenses."
She adds, "We have a lot of experience in the casket industry, and can help each person who would like to buy a casket online. If customers cannot find their styles or sizes in our catalog, please don't hesitate to contact with us, and we will not let you disappointed."
About MillionaireCasket.com
MillionaireCasket.com is a leading casket manufacturer. This company offers an exquisitely crafted line of all kinds of metal caskets, wood caskets, veneer caskets, cremation caskets, rental caskets, orthodox caskets, infant or over-sized caskets. The standard quality control policy is strictly applied here, and a third party quality assurance is also available.