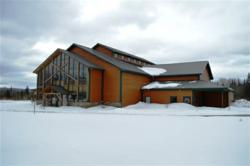 It's exciting to have a property that offers as much as this one does for such a steal
Newport Beach, CA (PRWEB) March 29, 2013
The economic struggles of years past continues to produce extraordinary real estate investment opportunities today with one of the latest being the former Emerson's Outdoor Outfitters building in Groveton, New Hampshire.
The property offered on the Freedom Realty Exchange's auction website, FRE.com, is approximately 30,000 square feet situated on 39 acres of land just off US Route 3 in northern New Hampshire. Built in 2004, the two story building impresses with a huge glass window frontage and rustic wood exterior. The interior includes an open stairway with natural wood finishes and a wood-framed roofline.
"It's exciting to have a property that offers as much as this one does for such a steal", states Ryan Devin, Director of Operations for the auction marketing company. "The bank is very motivated to sell the property after years on market as evident by the starting bid of $499,000."
The online auction is the most convenient and fair method for the interested buyers who are located out of state and Canada to participate. The website offers substantial property documentation for download such as feasibility studies and a recent appraisal.
For access to property documents, photos and the auction terms & conditions, visit FRE.com/157R2.
About the Freedom Realty Exchange, Inc. part of the LFC Group of Companies
The Freedom Realty Exchange is owned and managed by LFC Internet Marketing, Inc., a member of the LFC Group of Companies. For more than 30 years, the LFC Group of Companies has successfully auction marketed thousands of properties ranging from commercial and industrial to land and residential, with total sales exceeding $5 billion. Over the last nine years, it has conducted real estate auctions exclusively online. It has also successfully served numerous Fortune 500 companies, real estate developers, investors, financial institutions, government agencies and real estate brokerages by providing a complete suite of real estate disposition strategies and auction marketing programs for commercial and residential property and mortgage notes.