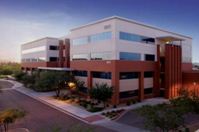 Phoenix, AZ (PRWEB) March 29, 2013
Valley Orthopedics announced today the opening of its new office at 3815 E. Bell Road, on the third floor. The new practice location, set to open in April, will offer comprehensive orthopedic management and care.
The new Valley Orthopedics' medical staff is comprised of Amon T. Ferry, MD. Dr. Ferry is Chief of Orthopedics for Valley Orthopedics and Integrated Medical Services (IMS) and is Board Certified by the American Board of Orthopedic Surgery. With this additional location, Valley Orthopedics will now be able to offer five convenient locations for patients throughout the Phoenix metropolitan area, with locations including North Mountain, Goodyear, Deer Valley, Anthem and now Paradise Valley.
Dr. Ferry is trained in cutting-edge, minimally invasive techniques and specializes in arthroscopic procedures such as rotator cuff repair, knee ligament reconstruction and cartilage restoration. His training in arthroscopic surgery of the knee and shoulder has been instrumental in the care of injured athletes. While he was in Boston, he worked with the New England Patriots, the Boston Red Sox, and the Boston Bruins and helped care for their players. He has also been very active in research and has published on a variety of topics such as knee ligament reconstruction and rotator cuff surgery in both orthopedic journals and text books.
Valley Orthopedics is comprised of expertly trained physicians in Hip, Knee and Shoulder Joint Replacement Surgery, Surgical & Non-Surgical care of the Wrist and Upper Extremity, Sports Medicine, Arthroscopic Surgery, and Fracture Care. Their physicians provide advanced musculoskeletal care, including hip resurfacing, minimally invasive and highly sophisticated computer assisted and arthroscopic techniques. Valley Orthopedics' technologically advanced office is equipped with electronic medical records and digital x-ray to enhance accuracy and efficiency of patient care.
More information on Amon T. Ferry, MD and Valley Orthopedics, or to schedule an appointment at any locations with one of Valley Orthopedics' experienced surgeons, visit http://www.valleyorthoaz.com or call 623.882.1292.