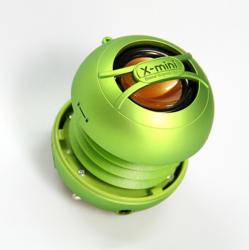 The new X-Mini
portable and rechargeable speakers in released mid-April 2013
Australia (PRWEB UK) 30 March 2013
SOUND QUALITY
The X-mini Uno and Max offer a new standard in portable speakers with the introduction of
the ceramic tweeter. The quality of sound produced from any speaker depends largely on the
tweeter material and after months of research, trials and prototype development, the
engineering team found that ceramic was the most suitable material to bring the X-Mini sound
to the next level.
The ceramic tweeter brings about several advantages. As compared to aluminum tweeters,
the ceramic ones can produce a wider frequency range covering higher and lower sounds. As
a result of that, the distortion of sound is also much reduced because the ceramic tweeter is
able to withstand high and low frequencies without producing any cracks in the sound.
BATTERY LIFE
The battery life of the UNO has been bumped up to 20 hours, as supposed to its previous 12
hours of playback time, whilst the MAX has been boosted up to 18 hours as compared to its
previous 10 hours of playback time.
With many devices now utilising micro USB, the charging ports of the X-mini UNO & MAX
ports have been similarly updated, hence allowing users to recharge their mobile devices with
the same cables provided with their X-mini's.
SIX COLOURS
The X-mini UNO & MAX will both be available in 6 colours – Red, Purple, Green, Blue,
Orange and Gunmetal (replacing black).
INDIVIDUAL CABLES FOR MAX SPEAKERS
The new MAX Stereo Speakers that come in a pair will have an additional option of using
each module in its own thanks to a newly incorporated built-in 3.5mm jack at the base of each
speaker.
AUSTRALIAN RESELLERS
The following resellers will be ranging the X-mini UNO & MAX Capsule Speakers.
Harvey Norman Australia
L S Travel Australia
Tech 2 Go
The Co-op
MAC1
Streetwise
APRs across Australia
TECHNICALLY SPECIFICATIONS
X-MINI UNO
Dimensions 60.0mm x 47.5mm (Closed Resonator)
Net Weight 112g
Speaker Magnetically Shielded 40mm (3.6Ω)
Loudspeaker Output 2.5W
Frequency Response 150Hz - 20kHz
Signal-to-Noise >= 82 dB
Distortion <= 1.0 %
Playback Time From 8 to 20 hours
Battery Capacity 500mAh
Battery Charging Voltage 5V
Battery Charge Time Minimum of 2.5 hours
X-MINI MAX
Dimensions 54mm x 82mm (Closed Resonator)
Net Weight 160g
Speaker Magnetically Shielded 36mm (3.6Ω)
Loudspeaker Output 2W x 2
Frequency Response 60Hz - 20kHz
Playback Time From 8 to 18 hours
Battery Capacity 400mAh
Battery Charging Voltage 5V
Battery Charge Time Minimum of 2.5 hours
AUSTRALIAN RESELLERS
The following resellers will be ranging the X-mini UNO & MAX Capsule Speakers.
Harvey Norman Australia
L S Travel Australia
Tech 2 Go
The Co-op
MAC1
Streetwise
APRs across Australia
For more information or if you'd like to review the X-mini UNO & MAX, please contact –
Jennifer Polce - jpolce(at)newagetrading(dot)com(dot)au